Unfortunately for the Middle East, this isn't something to celebrate.  Why?  Well, let's just say, there's more to the story than record oil production.
While the Middle East oil companies were busy working hard (spending money hand over fist) to produce this record oil production, their wonderful citizens were working even harder to consume as much oil as they could get their hands on.
In the past 40 years, Middle East domestic oil consumption surged more than six times from 1.5 million barrels per day (mbd) in 1976, to 9.6 mbd in 2015.  This had a seriously negative impact on rising Middle East oil production: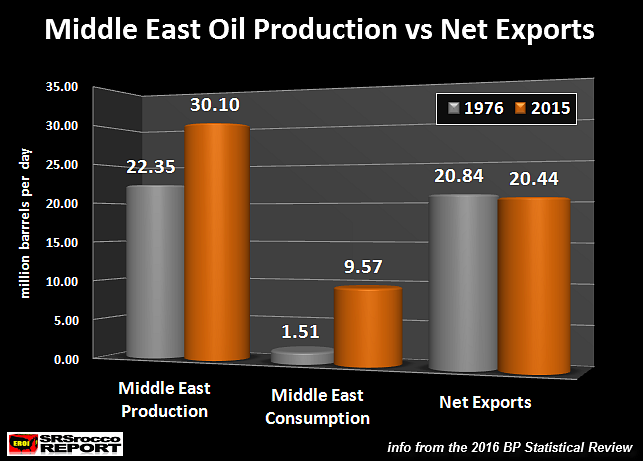 According to the 2016 BP Statistical Review, the Middle East produced 30.10 mbd of oil in 2015 compared to 22.35 mbd in 1976.  This was a growth of 7.75 mbd.  However, Middle East domestic oil consumption increased from 1.51 mbd in 1976 to 9.57 mbd in 2015.   Thus, the Middle Eastern economies devoured an additional 8.06 mbd of oil during that 40 year time-period.
NOTE:  The production data shown in the chart above only represents Middle East oil production.  OPEC members not included are Algeria, Angola, Ecuador, Gabon, Libya, Nigeria and Venezuela.  I only listed the production data for the Middle East as the data was readily available.
…click on the above link to read the rest of the article…