The Bank of Japan announcement of NIRP sent shock waves through currency markets
The Yen has strengthened on capital repatriation since the BoJ move
JGB 10 year yields turned negative this week
Longer-term the Yen will weaken
At the end of January the Bank of Japan (BoJ) shocked the financial markets by announcing that they would allow Japanese interest rates to become negative for the first time. USDJYP reacted with an abrupt rise from 118 to 121 which was completely reversed a global stock markets declined USDJYP is currently at 112.06 (11-02-2016). The three year chart below shows the extent of the move:-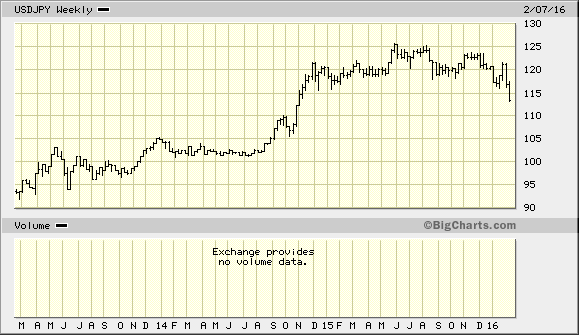 Source: Big Charts
Here is an extract from the BOJ Announcement:-
The Introduction of "Quantitative and Qualitative Monetary Easing (QQE) with a Negative Interest Rate" 

The Bank will apply a negative interest rate of minus 0.1 percent to current accounts that financial institutions hold at the Bank. It will cut the interest rate further into negative territory if judged as necessary.

The Bank will introduce a multiple-tier system which some central banks in Europe (e.g. the Swiss National Bank) have put in place. Specifically, it will adopt a three-tier system in which the outstanding balance of each financial institution's current account at the Bank will be divided into three tiers, to each of which a positive interest rate, a zero interest rate, or a negative interest rate will be applied, respectively.

"QQE with a Negative Interest Rate" is designed to enable the Bank to pursue additional monetary easing in terms of three dimensions, combining a negative interest rate with quantity and quality.

The Bank will lower the short end of the yield curve and will exert further downward pressure on interest rates across the entire yield curve through a combination of a negative interest rate and large-scale purchases of JGBs.
…click on the above link to read the rest of the article…