When a million people protest on the streets of Paris and most major French cities, you know there is a serious problem in French society…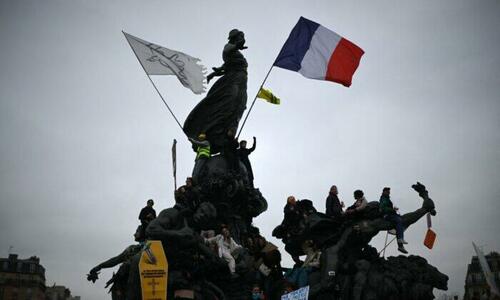 The protests, which had been going on for four days, culminated on Feb. 11 in Paris, where reportedly half a million people participated. The vitriol directed at the president during these protests was uncivilised and contemptuous of government reform proposals.
Reminiscent of the Yellow Vest Revolution in 2018, which was initially directed at a hike in the price of fuel, it soon morphed into a demand to raise the minimum net wage in France, which is now around €1,679 (US$1,800) per month.
The recent proposal, which earned the wrath of the protestors, concerns President Emmanuel Macron's plan to raise the pension age from 62 to 64. It is a response to the dire situation of the French pension system.
In France, retirees might be paid 50 per cent of their income, with a maximum of €41,136 annually. The state scheme is financed by "social security contributions"—a payroll tax that burdens French businesses.
It could be argued that the French president's proposal constitutes a justifiable attempt at containing the burgeoning cost of the pension scheme, which otherwise would become unsustainable.
That the pension scheme is economically untenable is an unavoidable consequence of changes in French demographics.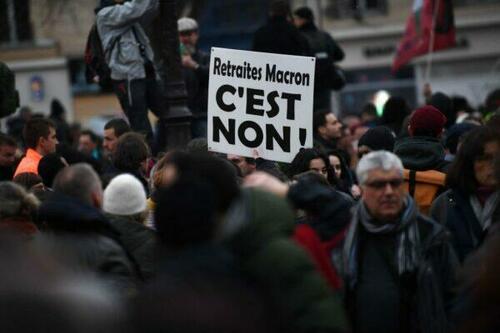 A protester holds a placard reading "Macron pensions, it's no!" during a demonstration on the fourth day of nationwide rallies organised since the start of the year against a deeply unpopular pensions overhaul, in Paris, on Feb. 11, 2023. (Christophe Archambault/AFP via Getty Images)
In 1910, when the first pension law came into effect, life expectancy was 51.3 years, whereas now it is 82.4 years. Also, the population has increased exponentially since 1910 and now stands at around 65 million, compared to around 39 million in 1910.
…click on the above link to read the rest…