On Thursday Russian President Vladimir Putin attended events marking the 80th anniversary of the battle of Stalingrad, and in his speech hailing Russia's historic victory against Nazi Germany in World War II, he didn't hold back, lashing out against Berlin's contemporary decision-making regarding the war in Ukraine.
"Unbelievable, but it is a fact: we are once again being threatened with German tanks – Leopards – that have crosses [painted] on their sides," Putin said in a provocative statement that evoked Nazi invasion imagery.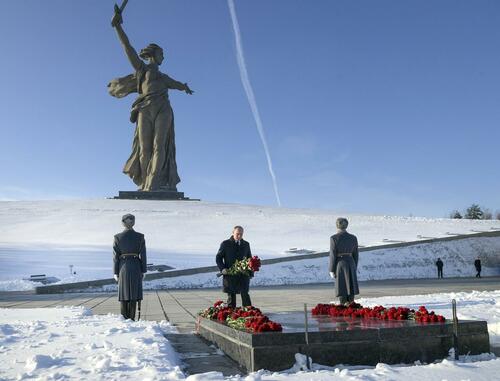 "Those who expect to win on the battlefield apparently do not understand that a modern war with Russia will be utterly different for them. We are not the ones sending our tanks to their borders," Putin added while saying Russia is sure in its victory, and ominously warning that "we will deploy more than just tanks".
"These powers which try to wage an undeclared war against Russia will receive a tough response to their actions," the president remarked, according to state media translation.
The city where the memorial ceremony took place has since 1961 been called Volgograd, a change that occurred during the de-Stalinization process:
Putin had earlier laid flowers at the eternal flame on Mamayev Kurgan, a hillside where much of the fighting took place that now hosts the "Battle of Stalingrad" museum complex and the city's famous statue "The Motherland Calls."
The crucial battle of August 1942 to February 1943 was key in ultimately deciding the outcome of WWII, given it ended with Hitler's 6th Army surrendering, and marked the first devastating capitulation for Berlin, setting the stage for an allied victory by May 1945. But in total an estimated 2 million German and Soviet soldiers and civilians died in a mere 6 months of fighting.
…click on the above link to read the rest…