Since the end of December, a 'parade of cyclones' has swamped California. The latest round of torrential rain has caused flooding in Los Angeles County, and still unclear in the early morning hours of Tuesday the extent of the destruction, though social media video on Monday evening shows flooded streets, overflowing streams and rivers, and mudslides in what is usually a dry, sunny place where residents have to worry about drought.
National Weather Service said 34 million people are under flood alerts across Southern and Central California through early Tuesday. In Los Angeles County, a flood warning is in effect through the evening.
Dramatic footage has surfaced on social media showing the widespread flooding.
Forecasters estimate the latest round of rain could bring upwards of 5-10 inches in some areas by the end of this week.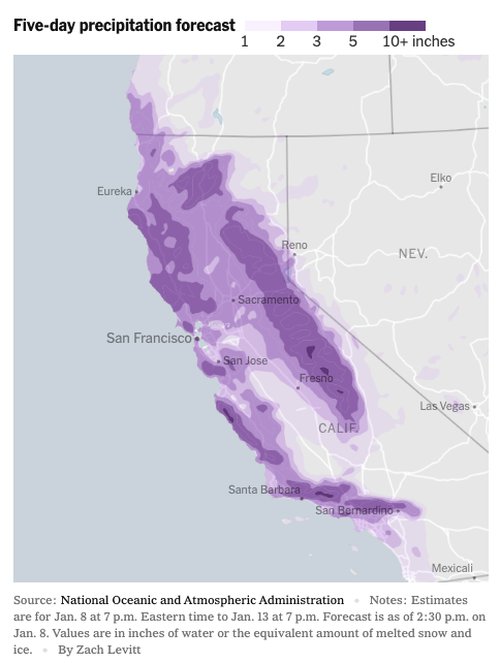 More stormy weather is forecasted for today. NWS said heavy precipitation is expected this morning and will begin to taper later in the day, warning a new and "energetic" low-pressure system was becoming more powerful offshore.
Officials said Los Angeles and San Diego residents faced an increased risk of flash flooding and mudslides. Tropical storm-strength winds were also forecast for San Luis Obispo County. Parts of Highway 101, which runs up and down the West Coast, were closed due to flooded-out sections of the major roadway.
Santa Barbara County told residents to shelter in place and closed public schools today. Officials told wealthy residents of Montecito, such as Prince Harry and Meghan, the Duchess of Sussex, to evacuate because of the flooding.
And it was just only six months ago 'global warming' alarmists and celebrities were complaining about droughts…
California Governor Gavin Newsom announced yesterday that storms had caused 14 deaths. He said that figure was higher than deaths caused by "wildfires in the past two years combined."
…click on the above link to read the rest…