Ukraine has been hit with a "massive" attack of over 120 missiles across the country Thursday, its military and presidency's office said. "December 29. Massive missiles attack… The enemy is attacking Ukraine from various directions with air and sea-based cruise missiles from strategic aircraft and ships," Ukraine's air force said in a public statement.
It marks the largest barrage of missiles since there was weekend talk from both sides of mutual 'openness' in getting to the negotiating table. Ukrainian leadership floated the proposal of UN-brokered talks by the end of February, but its insistence on Russian officials facing a war crimes tribunal first was seen in Moscow as not serious and a non-starter.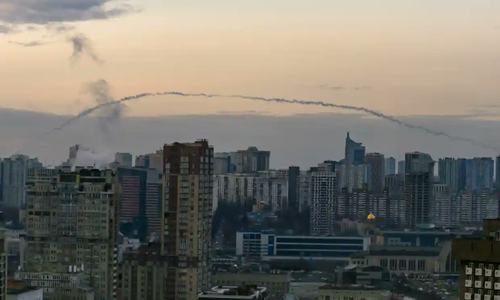 Regardless, at this point, Thursday's fresh aerial attack effectively slams the door shut on the possibility of talks. According to a blistering statement from Zelensky aide Mykhaylo Podolyak, the missiles were launched:
…by the "evil Russian world" to destroy critical infrastructure & kill civilians en masse. We're waiting for further proposals from "peacekeepers" about "peaceful settlement", "security guarantees for Russian Federation" & undesirability of provocations.
Thus with the obvious sarcasm Zelensky's office has clearly signaled talks at this point are all but an impossibility from its point of view.
The Ukrainian military said missiles reached as far West as Lviv, parts of which were left without electricity Thursday morning. "Ninety percent of the city is without electricity," Lviv's mayor said in a social media post. "We are waiting for more information from energy experts. Trams and trolleybuses are not running in the city."
…click on the above link to read the rest…