Authored by Simon White, Bloomberg macro-strategist,
The macro landscape is changing. Inflation will remain in an elevated and unstable regime, but the first stage of the crisis is drawing to a close. That means the dollar in a downward trend, bonds in an upward trend, stocks underperforming bonds, and growth outperforming value.
Regime shifts can be almost imperceptible in real time, but in retrospect they mark fundamental turning points. Inflation today is going through one of these shifts, analogous to the 1970s. In that decade, inflation could be understood as a play in three acts, a drama that is likely to be repeated in this cycle.
In the first act, inflation makes new highs and the Fed tightens aggressively.
The second is when inflation begins to recede, allowing the central bank to pull back from tightening.
The final act is when we see inflation return with a vengeance, eliciting a Volcker-esque monetary response and a deep recession in order to fully snuff it out.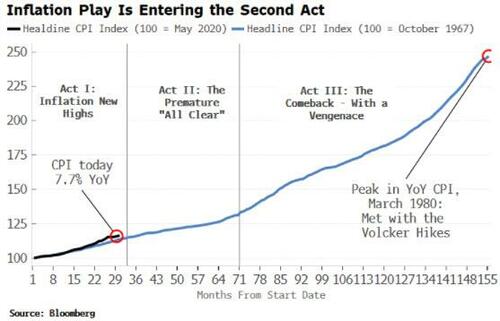 So what's brought the curtain down on the first act? Three important indicators have made a decisive turn:
The market is now ahead of the Fed's rate projections (the Dots)
The real yield curve is emphatically flattening
My Advanced Global Financial Tightness Indicator (AGFTI) is rising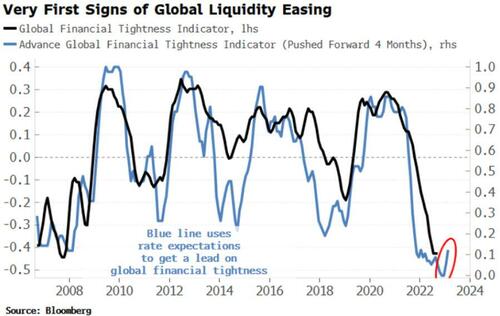 All through this cycle, the market has been anticipating a lower peak rate than desired by FOMC members. That changed in the last couple of months, signaling that Fed hawkishness was peaking as the market was amplifying — not inhibiting — the Fed's intended policy.
The real yield curve had steepened relentlessly as shorter-term real rates kept falling while the Fed rate lagged inflation. But the trend definitively turned in July, pointing to a peak in the dollar…
…click on the above link to read the rest…