Two bombshell reports by the Associated Press and Washington Post Monday and Tuesday have confirmed that the United States has boots on the ground in the Ukraine conflict. Crucially, these troops are performing tasks separate from mere embassy security.
The American troops are said to be performing "inspections" of US weapon caches after last week the State Department and Pentagon unveiled a new plan to track US-supplied weapons in efforts to implement accountability for the billions of dollars worth of arms and ammunition transferred to Ukrainian forces since near the start of the war eight months ago.
"A small number of U.S. military forces inside Ukraine have recently begun doing onsite inspections to ensure that Ukrainian troops are properly accounting for the Western-provided weapons they receive, a senior U.S. defense official told Pentagon reporters Monday," the AP/WaPo reporting revealed.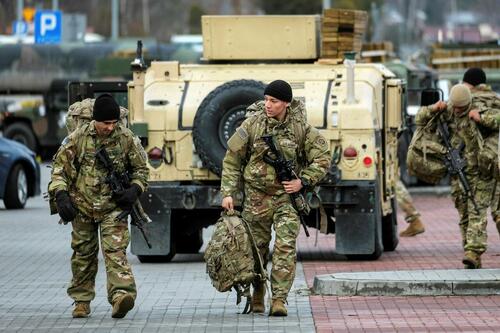 A Pentagon briefing confirmed this "small" contingency of troops has been advised to not do inspections "close" to the front lines of fighting:
The official, who spoke on condition of anonymity to provide a military update, would not say where the inspections are taking place or how close to the battlefronts the U.S. troops are getting. The official said U.S. personnel can't do inspections "close to the front lines," but said they are going where security conditions allow.
There have already been "several inspections" overseen by U.S. Defense attache and a US Office of Defense Cooperation team based out of the Ukrainian capital. The report underscores that "U.S. President Joe Biden has ruled out any combat role for U.S. forces inside Ukraine."
…click on the above link to read the rest…