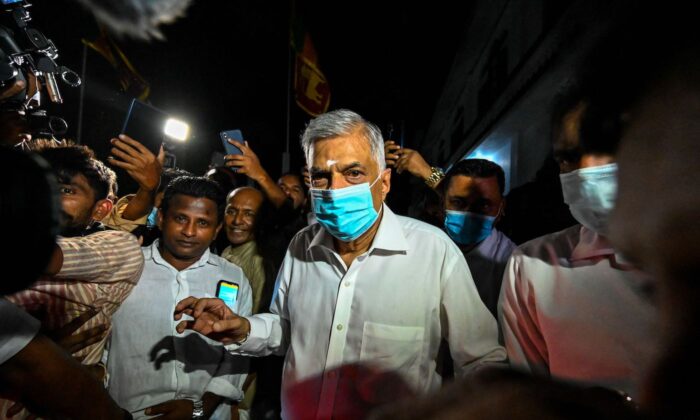 Sri Lanka has run out of gasoline and the country's finances are "extremely precarious," its new prime minister said on May 16.
The cash-strapped government urgently needs $75 million in foreign exchange to pay for essential imports within the next couple of days, Prime Minister Ranil Wickremesinghe said.
"At present, the Sri Lankan economy is extremely precarious," Wickremesinghe said in a televised address. "The next couple of months will be the most difficult ones of our lives.
"We must prepare ourselves to make some sacrifices and face the challenges of this period."
Wickremesinghe said that three shipments of crude oil and furnace oil "have been anchored within the maritime zone of Sri Lanka" because the government was unable to raise dollars to pay for them.
"At present, the central bank, local and private banks, and foreign banks functioning in Sri Lanka are all facing a dollar shortage. As [the public] is already aware, we possess a very low amount of U.S. dollars," he said.
While shipments of diesel and gasoline using the Indian credit line may provide relief in the coming days, Wickremesinghe warned that Sri Lanka could see power outages lasting up to 15 hours a day.
The country also faces a severe shortage of medicines and surgical equipment, particularly heart disease medication and anti-rabies vaccine. Sri Lanka currently owes 34 billion Sri Lankan rupees ($94 million) to pharmaceutical suppliers.
The central bank will have to print money to pay the wages of the state-sector employees, although Wickremesinghe cautioned that doing so would cause the currency to depreciate.
…click on the above link to read the rest of the article…