(Update 4:48pm ET): In the overnight hours local time a massive gas pipeline explosion is being reported, with a fire raging at the site. Early unconfirmed reports suggest the powerful explosion rocked a part of the pipeline in the pro-Russian separatist region, in or near the city of Luhansk.
Interfax is also confirming a "pipeline fire in Eastern Ukraine after a powerful explosion"… Dramatic videos were quick to emerge showing a bright fireball on the horizon.
"An explosion has rocked the city of Lugansk in eastern Ukraine late on Friday, Sputnik news agency's correspondent has reported," according to Russian media.
And reports of a second explosion have come across the news wires:
RUSSIA'S INTERFAX NEWS AGENCY REPORTS SECOND EXPLOSION IN LUHANSK IN EAST UKRAINE
"Local media have also confirmed that a pipeline in the area has been affected, resulting in a major fire. Emergency services are on the scene," the report said.
Hawkish Republican Senator Marco Rubio was quick to immediately point the finger at Russia for sabotage, suggesting that that Washington might have its 'false flag' moment to pin on Moscow…
* * *
(Update 12:30 ET): Russia's RIA is now reporting that the head of the Russian-backed Donetsk People's Republic, when asked whether things are moving towards war, said "unfortunately, yes."
Meanwhile, Donetsk Republic separatists say they plan to evacuate approximately 700,000 people to Russia.
*  *  *
(Update 11:05ET): Futures have taken the elevator to session lows after Russia's RIA reports a large explosion occurred near the separatists' government building in the center of Donetsk.
Here are photos of the explosion that occurred after dark local time in Donetsk…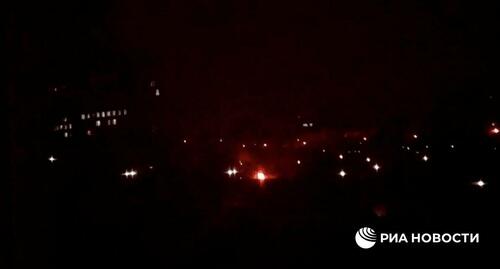 … and which has been attributed to a car bomb assassination attempt.
The news slammed US equity markets to session lows…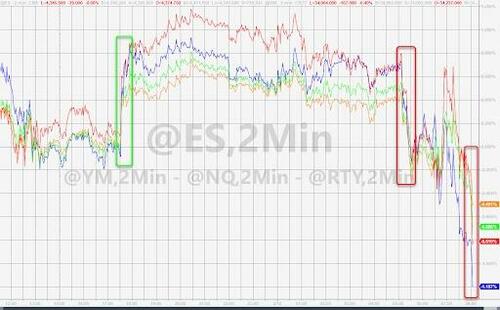 … hammered the ruble, which is now down 1.6% against the dollar…
…click on the above link to read the rest of the article…