Another day, another collapse in the Turkish lira, only this time there was a twist: as the hyperinflating currency implodes, Erdogan has finally had enough of the relentless pummeling, and is starting to shut down its markets.
But first, let's back up: heading into Friday, the lira accelerated its historic descent, weakening past the 16 per-dollar mark as a central bank pledge to end a four-month cycle of interest rate cuts on Thursday fails to convince investors that inflation can be brought to heel. That was just the start however, and the currency plunge only accelerated crashing as low as 17.14 bringing declines this week to 17%.
As a reminder, the central bank yesterday cut its benchmark one-week repo rate by a further 100 basis points to 14%, its fourth reduction since September spurred by demands from President Recep Tayyip Erdogan to lower borrowing costs in the face of surging consumer prices.  The resulting sell-off accelerated a 54% plunge in the currency so far this year as real rates fall further below zero with inflation now standing at an annual 21.3%.
Erdogan then responded to the economic pain caused by rising prices by ordering a 50% increase in the minimum wage next year, guaranteeing even more inflation as it will increase production costs that will see inflation accelerate by a further 2% to 8% next year, Erkin Isik, chief economist at QNB Finansbank, wrote in a note to clients.
In any case, once the lira plunged to 17, the central bank spent another billion or so intervening, its 5th intervention just in December. Needless to say, this intervention like all those preceding it, had a halflife of just a few minutes, and shortly after the USDTRY was trading just shy of all time highs.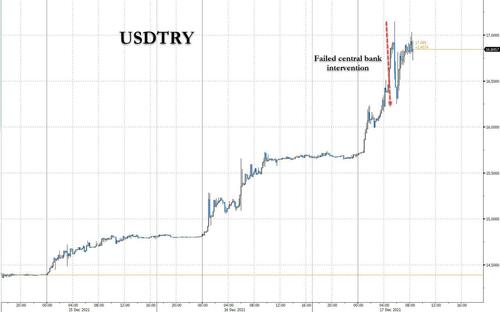 …click on the above link to read the rest of the article…