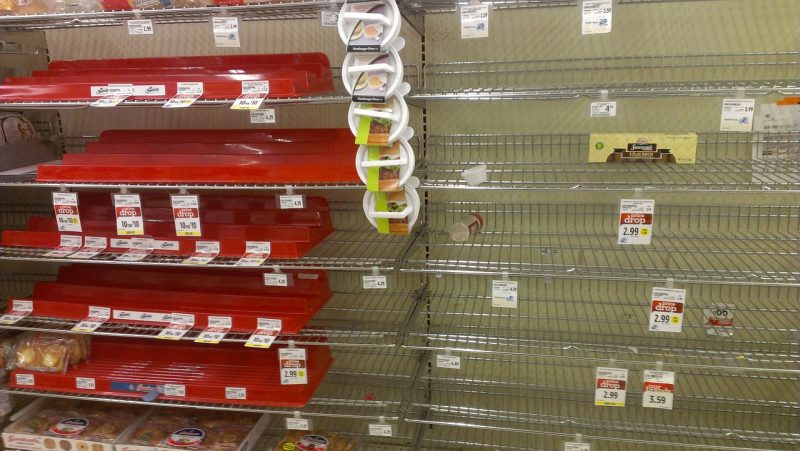 Have you noticed that store shelves are starting to get emptier and emptier?  During the panic shopping that was sparked by the start of the COVID pandemic in 2020, there were very intense shortages of certain items, but those shortages did not last very long at all.  But now there are widespread shortages in just about every sector of our economy, and they are starting to become quite painful.  Unfortunately, we are being told to expect the shortages to intensify as we head into the holiday season.  That is extremely alarming, because in many areas the shortages are already quite severe.
I had been away from the news for a couple of days, and when I came back there were lots more stories about our ongoing shortages.  For example, the following comes from an excellent piece by Matt Stoller…
There are shortages in everything from ocean shipping containers to chlorine tablets to railroad capacity to black pipe (the piping that houses wires inside buildings) to spicy chicken breasts to specialized plastic bags necessary for making vaccines. Moreover, prices for all sorts of items, from housing to food, are changing in weird ways. Beef, for instance, is at near record highs for consumers, but cattle ranchers are getting paid much less than they used to for their cows.
In my entire life, I have never seen anything like this.
Even the Federal Reserve is admitting that we have a major problem at this point.  In fact, in the latest Beige Book the Fed referred to the shortages a whopping 80 times.
In certain parts of the country, these shortages are really beginning to sting.  A reader just emailed me about what is going on in his section of Connecticut, and he said that I could share this with all of you…
…click on the above link to read the rest of the article…