The U.S. Department of Agriculture's World Agricultural Supply and Demand Estimates (WASDE) report was released Thursday afternoon and pointed to declining grain supplies that sent grain futures prices higher and will keep food inflation in focus.
The closely watched supply and demand report slashed estimates for corn yields and stockpiles. World inventories for wheat were reported near a five-year low.
Grain and oilseed futures soared to a near-decade high earlier this year but have been in a holding pattern for the last month, awaiting new reports on the outlook for upcoming U.S. harvests. A megadrought and back-to-back heat waves have plagued the corn belt and the U.S. West for much of the summer. 
December corn futures were up more than 2% to $5.7150 a bushel on the Chicago Board of Trade, soybean futures popped on the report and are now flat at the end of the U.S. cash session, wheat futures rose more than 3%, hitting a fresh eight-year high.

The Bloomberg Grains Index closed up 1% on the report.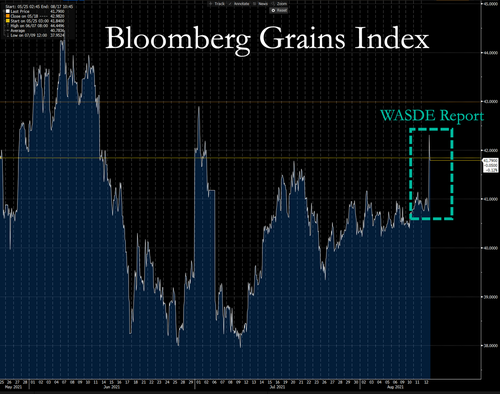 Bloomberg outlines the key takeaways from the August WASDE report:
DROUGHT BITES: U.S. corn and soybean yields fell below analyst expectations and the declines were largely centered in the drought-stricken northern Plains, where severe drought has withered crops.
RUSSIA: So goes Russia's harvest, so goes the wheat market. A large cut in the harvest means a lot less global wheat supplies and Russia's wheat-export throne as the world's top shipper is in doubt with the current forecast in line with exports out of the E.U.
WHEAT PEAK: Benchmark Chicago wheat prices hit the highest levels for a most-active contract since 2013. Corn and soybeans each touched multi-week highs but remain below multi-year peaks from earlier in 2021.
…click on the above link to read the rest of the article…