A derecho, otherwise known as a widespread, long-lived, straight-line wind storm, is expected to traverse parts of the Midwest Wednesday night and early Thursday, according to The Weather Channel.
Derechos can cause hurricane-force winds, tornadoes, torrential rains, and flash floods. This one could wreak havoc in the areas shaded in purple below.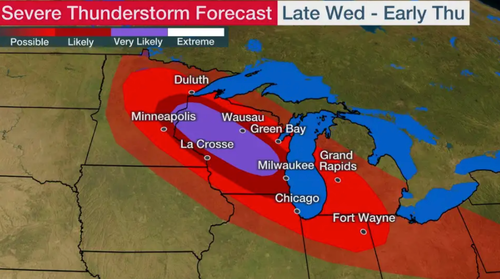 What's important to note is that this derecho is sweeping across the corn belt.
Last year, a derecho rolled through Iowa and damaged about 14 million crop acres, or about 57% of the state's farms.
Across the corn belt, crops have already been damaged by sweltering heat and a persisting megadrought. This could weaken the root system and make corn more susceptible to snap under wind pressure.