Update (0845ET): All of Fastly's services appear operational, and the global CDN disruption has been resolved.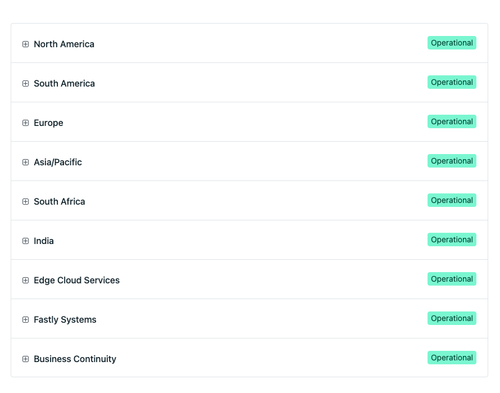 Let's hope so… 
* * *
Update (0736ET): After an hour of websites and apps worldwide went dark, many are coming back online around 0730 ET. The core problem was an "issue" identified on the Fastly CDN (content delivery network) network.
Popular websites such as Twitch, Pinterest, HBO Max, Hulu, Reddit, Spotify, which Fastly runs a content delivery network to push data around the internet, went down around 0600 ET. With so many websites relying on Fastly's technology to act as a high-level website and application hosting service to serve millions of users, the internet breaks when their servers go down.
There are many similarities between this outage and an issue with Cloudflare last year.
The point here is to have the entire internet rely on a single point of failure like Fastly and Cloudflare could be something hackers may exploit.
* * *
Update (0708ET): Fastly issued a new update that reads: "The issue has been identified and a fix has been applied. Customers may experience increased origin load as global services return."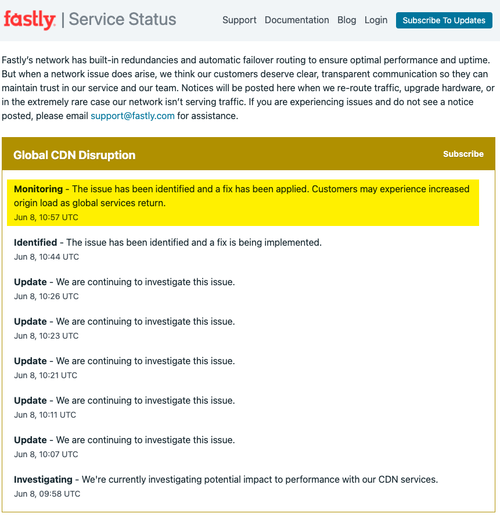 So problem fixed? 
* * *
Update (0650ET): Fastly has identified the issues and a fix is being implemented.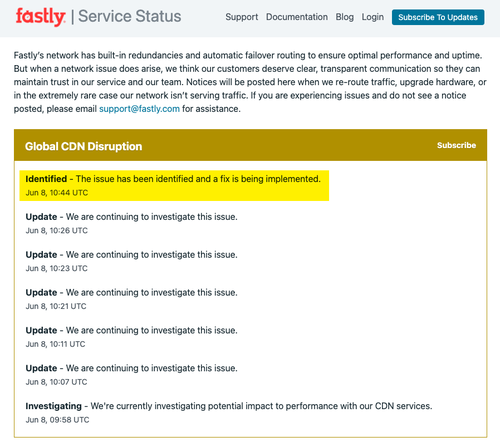 How long until the Russians are blamed? 
*  * *
Update (0646ET): Many websites are down this morning due to a CDN failure. The issue appears to be originating at the Fastly CDN network. We listed websites currently experiencing problems in an earlier update, such as Reddit, Twitch, PayPal, etc…
According to Bloomberg, the Fastly CDN (content delivery network) network experienced issues around 11:00 local time in the UK that disrupted internet data worldwide, preventing people from writing on forums, shopping online, watching videos, and using apps and websites.
…click on the above link to read the rest of the article…