Fed officials, economists "surprised" by surge in CPI inflation, but we've seen it for months, including "scary-crazy" inflation in some corners.
The Consumer Price Index jumped 0.8% in April from March, after having jumped 0.6% in March from February – both the sharpest month-to-month jumps since 2009 – and after having jumped 0.4% in February, according to the Bureau of Labor Statistics today. For the three months combined, CPI has jumped by 1.7%, or by 7.0% "annualized." So that's what we're looking at: 7% CPI inflation and accelerating.
Consumer price inflation is the politically correct way of saying the consumer dollar – everything denominated in dollars for consumers, such as their labor – is losing purchasing power. And the purchasing power of the "consumer dollar" plunged by 1.1% in April from March, or 12% "annualized," according to BLS data. From record low to record low. Over the past three months, the purchasing power of the consumer dollars has plunged by 2.1%, the biggest three-month drop since 2007. "Annualized," over those three months, the purchasing power of the dollar dropped at an annual rate of 8.4%: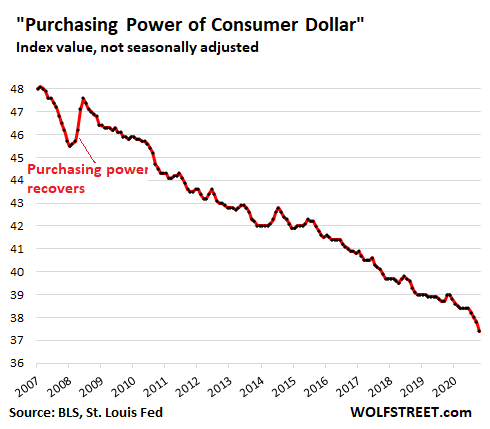 Folks in the business of dealing with inflation, such as economists and Fed officials, such as Fed Vice Chairman Richard Clarida, came out this morning in droves and said they were "surprised" by the red-hot CPI inflation.
There was nothing to be surprised about. We have been documenting red-hot inflation boiling beneath the surface for months, with "scary-crazy inflation" in used vehicles and in commodities, such as lumber, and surging factory input costs that are getting passed on because the entire inflation mindset has now changed.
…click on the above link to read the rest of the article…