In Wednesday's press conference, Jay Powell confirmed that the Fed is setting off on a historic experiment: welcoming a conflagration of red-hot inflation for an indefinite period of time in an overheating economy, with the underlying assumption that it's all "transitory" and that inflation will return to normal in a few years, and certainly before 2023 when the Fed's rates will still be at zero.
There is a big problem with that assumption: while FOMC members, most of whom are independently wealthy and can just charge their Fed card for any day to day purchases of "non-core" CPI basket items, the vast majority of the population does not have the luxury of having someone else pay for their purchases or looking beyond the current period of runaway inflation, which will certainly crush the purchasing power of the American consumer, especially once producers of intermediate goods start hiking prices even more and passing through inflation.
Many readers may not recall, but one such instance of "transitory" inflation that proved to be anything but and led to the infamous Volcker Fed and its double digit rate hikes, was the price of oil which took off in the Arab oil embargo and then refused to come back for over a decade.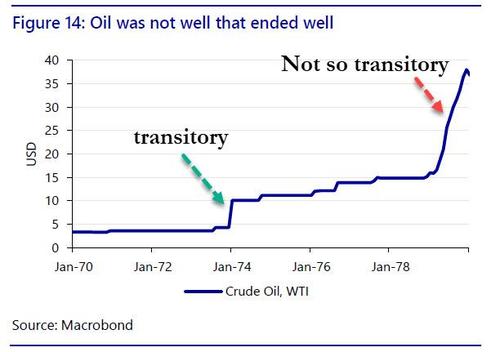 The Powell Fed, however, is eager to brush aside any analogues to previous episodes of runaway inflation which it sees as having a demand component, and merely ascribes what is taking place to unprecedented supply chain disruptions – i.e., collapse in supply – as a result of both the trade war with China and, more recently, the covid pandemic, which have unleashed chaos among traditional supply-chain intermediaries.
…click on the above link to read the rest of the article…