Americans trying to buy a new vehicle will end up paying more.
The auto industry runs on far-flung supply chains and just-in-time inventories. Production is planned a long time in advance, and the whole industry is dependent on flawlessly operating supply chains. Cars are computers on wheels, with lots of plastic and thousands of semiconductors in each vehicle, controlling everything from the windows to all aspects of the entire powertrain, and of course the infotainment system. If a supplier runs out of just one kind of chip, they can't build the component, and the vehicle cannot be assembled and the assembly plant has to shut down.
Then came the historic spike in demand for durable goods, powered by stimulus payments and the shift of consumer spending from services – flights, hotels, cruises, theaters, sports events, restaurants, and the like – to durable goods, such as appliances, laptops, video consoles, smartphones, computerized exercise equipment, and new vehicles. And they all have lots of semiconductors in them. And it had this effect: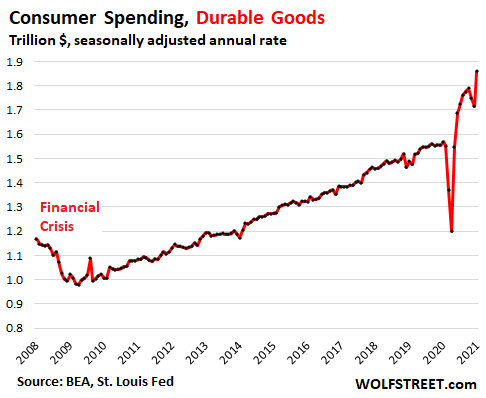 Supply chain disruptions due to semiconductor shortages started dogging automakers and component makers late last year.
Then with impeccable timing in mid-February came the horrendous winter storm that rolled across a big part of the US and slammed into Texas, causing major blackouts for days, and other damage. Four semiconductor plants in Austin shut down; two of them, the Samsung plants, remain shut down to this day, pushing the chip shortage to the next level.
And now there are plastic shortages cropping up because petrochemical plants along the Gulf of Mexico shut down as a result of the Texas freeze, and many plants remain offline – thereby hitting the supply of plastics.
…click on the above link to read the rest of the article…
wolf richter, wolfstreet, shortages, shipping, supply chains,