Weirdest Economy Ever, as 20 million people still claim unemployment benefits.
Total bankruptcy filings by consumers and businesses in the US in 2020, across all chapters of bankruptcies, plunged by 30% from 2019, to just 529,000 filings, according to legal-services provider Epiq Systems. This was the lowest number of total bankruptcy filings since 1986.
The plunge in filings was largely driven by consumers, who account for 94% of total bankruptcy filings, and who were awash with stimulus money and extra unemployment benefits (historic Epiq data via American Bankruptcy Institute):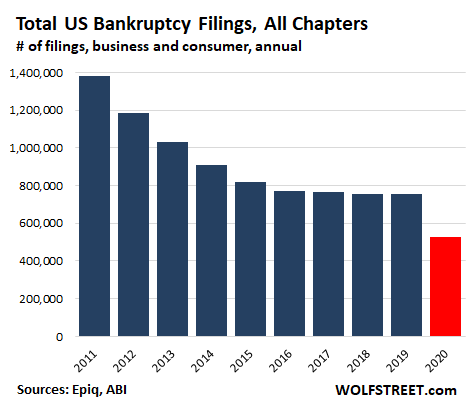 Bankruptcy filings by consumers alone plunged by 31% from a year ago to just 496,000 filings, the lowest since 1987. Following the Financial Crisis in 2011, consumer filings had surged to 1.38 million as consumers were unwinding their credit card debt, mortgages, and HELOCs. But not during this crisis. Though 20 million people are still claiming state or federal unemployment benefits, the opposite happened in the Weirdest Economy Ever.
Under a flood of stimulus money, consumers triggered a historic drop in credit card debt and a sharp drop in credit card delinquencies. Auto loan delinquencies also declined. But 5.5% of all mortgages are still in forbearance where borrowers don't have to make mortgage payments – 2.7 million mortgages! And eviction bans allow renters to skip rent payments. And even consumers that were in arrears didn't have to fend off creditors and landlords with a bankruptcy filing (historic Epiq data via American Bankruptcy Institute):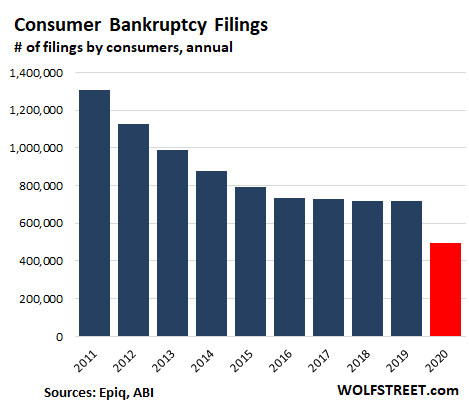 Total commercial filings under all chapters fell 15% to 33,000 filings, powered by a 40% drop in commercial Chapter 13 filings and a 14% drop in commercial Chapter 7 filings.
But commercial Chapter 11 filings – when a business attempts to restructure its debts while operating rather than liquidating – surged 29% to 7,128 filings, the highest since 2012 when the effects of the Financial Crisis were winding down.
…click on the above link to read the rest of the article…