Legions of European companies are succumbing to the final straw of Europe's largely self-inflicted energy crisis. 
Bankruptcy proceedings in the Canary Islands, Spain's heavily tourism-dependent island chain, soared a whopping 276% year over year in 2022, according to the latest data published by the General Council of the Judiciary (CGPJ) in its report, "The Effects of the Economic Crisis on Judicial Bodies." The archipelago also saw the highest rate of dismissal claims in Spain, with around 400 of every 100,000 inhabitants losing their jobs.
But this trend is not unique to the Canary Islands, nor indeed Spain. It is happening across large swathes of Europe's economies, as legions of businesses succumb to the final straw of Europe's largely self-inflicted energy crisis.
In the EU as a whole the number of bankruptcy declarations initiated by businesses increased substantially (26.8%) quarter-on-quarter in the fourth quarter of 2022, reaching the highest levels on record since Eurostat began collecting EU-wide bankruptcy data in 2015. The number of bankruptcy declarations increased during all four quarters of 2022. As the Eurostat graph below shows, at the current rate of business destruction it won't be long before businesses are closing at a faster rate than they are opening.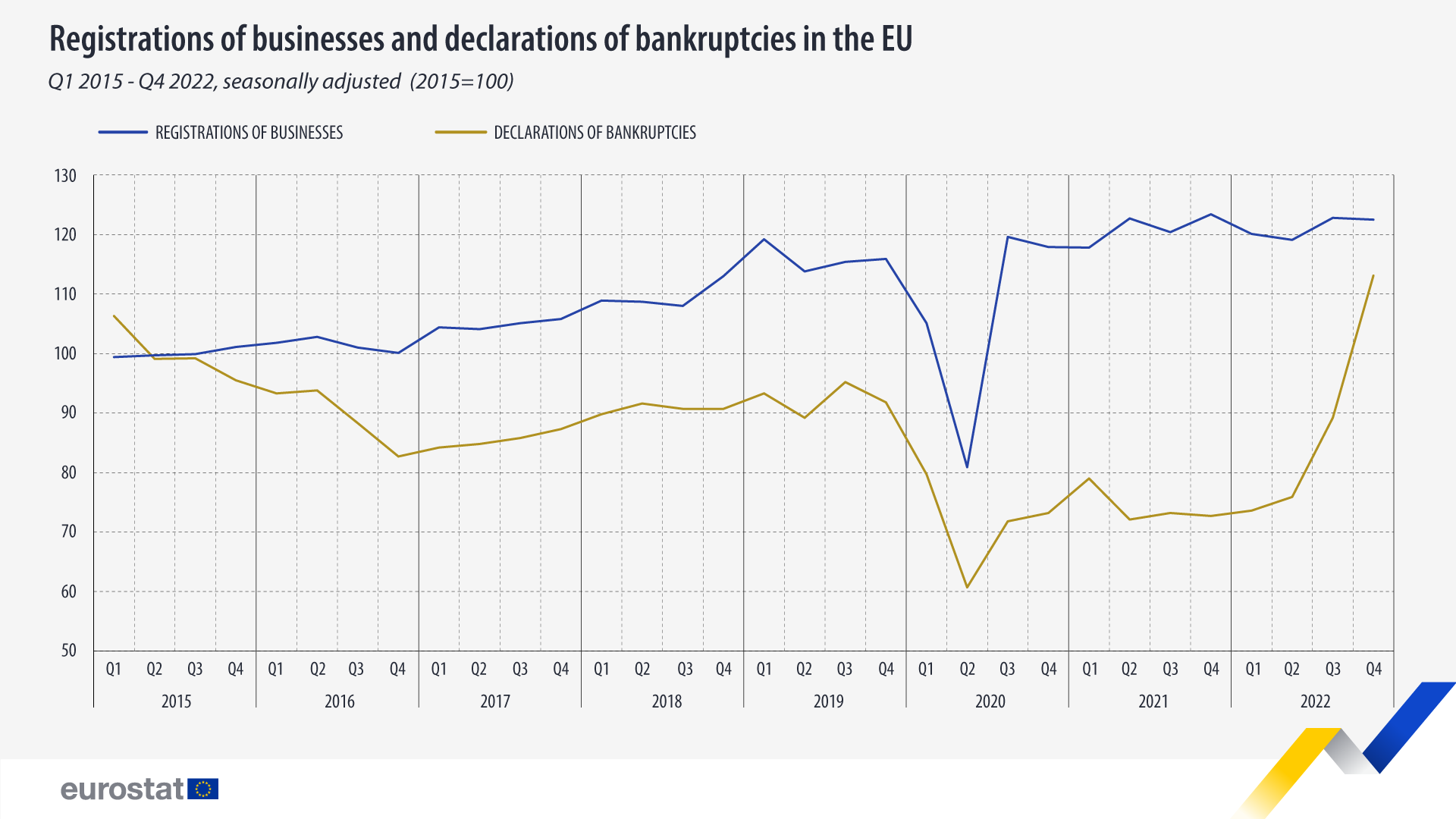 This trend, of course, was not hard to foresee. In August 2022, I warned that the EU's largely self-inflicted energy crisis and resulting inflation is tipping legions of small businesses over the edge:
After reeling from one crisis to another, Europe's heavily indebted and deeply debilitated small businesses — the backbone of the economy — face the ultimate threat from energy shortages and soaring prices.
…click on the above link to read the rest…