Following years of depressed farm income and rising debt levels, a review of the Federal Deposit Insurance Corporation (FDIC) quarterly report by Tri-State Livestock News reveals that "delinquency rates for commercial agricultural loans in both the real estate and non-real estate lending sectors are at a six-year high."
About 2.5% of commercial real estate loans in agriculture were 30 days past due in 1Q19, up from 2.1% in the prior quarter and above the historical average of 2.1%. 2.3% of non-real estate loans in agriculture held by commercial lenders were 30 days past due, up from 1.5% in the previous quarter and above the historical average of 1.7%. Delinquency rates for commercial lenders haven't been this high since 2013.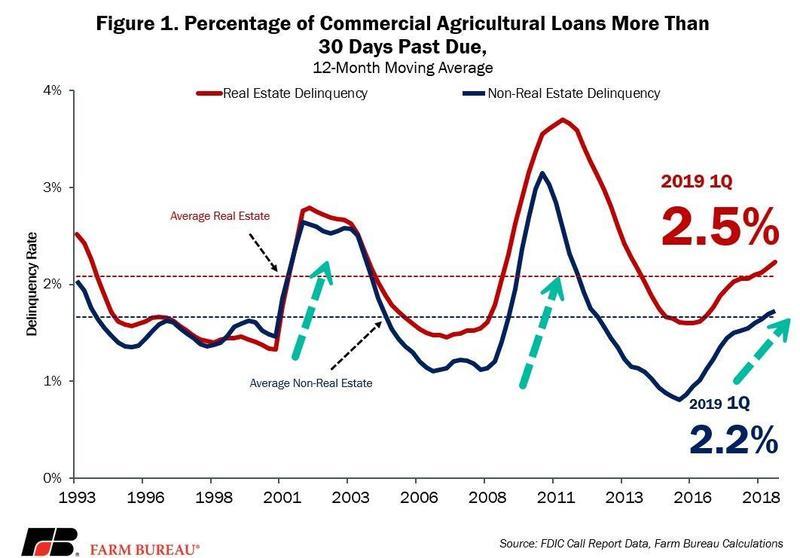 Delinquency rates of agriculture loans aren't at crisis levels yet but have trended above historical averages in the last several years as farm incomes in the Midwest and Mid-Southern states have collapsed over the previous six years.
Net farm income, a broad measure of profits, has fallen 45% since a high of $123.4 billion in 2013 to about $63 billion last year, according to the US Department of Agriculture (USDA).
Farm incomes are expected to be significantly lower in 2019 as record floods devastated large parts of the Farm Belt this year.
About two-thirds of agriculture banks surveyed by the St. Louis Fed said their farm clients were severely affected by the flooding and other adverse weather conditions through summer.
Farm incomes in several regions of the Midwest have become stable this year thanks to President Trump's farm bailout(s) and elevated corn prices that started in May due to yield concerns following wet weather, according to bankers surveyed by the Kansas City Fed.
…click on the above link to read the rest of the article…