Home » Posts tagged 'Federal Deposit Insurance Corporation'
Tag Archives:
Federal Deposit Insurance Corporation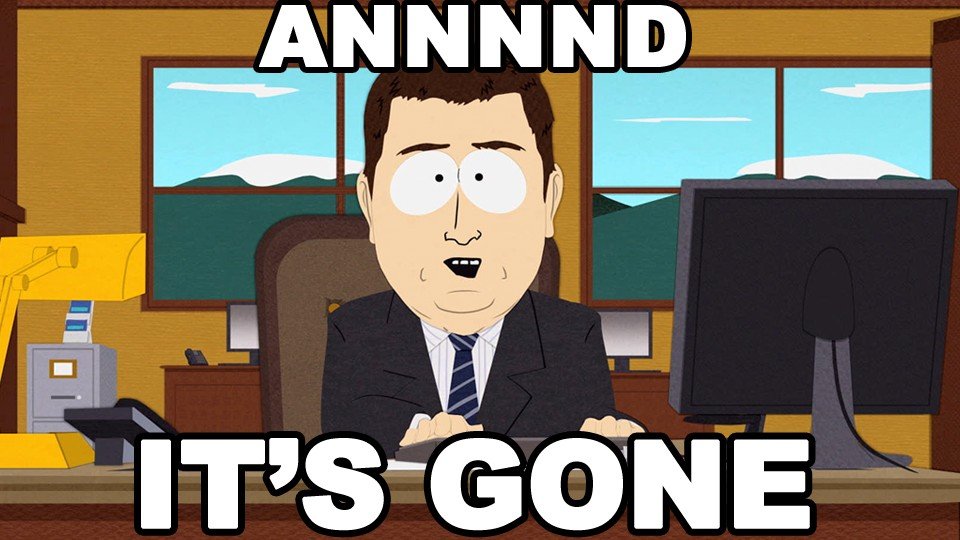 Yesterday the Chair of the FDIC released an astonishing video asking Americans to keep their money in the bank.
Accompanied by soft piano music playing in the background, the official said:
"Your money is safe at the banks. The last thing you should be doing is pulling your money out of the banks thinking it's going to be safer somewhere else."
Amazing. I was half expecting her to waive her hand and say, "These aren't the droids you're looking for…"
As I've written before, there's $250 TRILLION worth of debt in the world right now: student debt, housing debt, credit card debt, government debt, corporate debt, etc.
And let's be honest, some of that debt is simply not going to be paid.
Millions of people have already lost their jobs. Millions more (like the 10 million waiters and bartenders across America) are barely earning anything right now because their businesses are closed.
A lot of those folks have no emergency savings to fall back on during times of crisis, so they're going to be forced to choose: pay the rent, or buy food.
The government has already suspended evictions and foreclosures, which is a green light for people to stop paying the rent or mortgage.
And that means banks will take it in the teeth.
This is what happened back in 2008– millions of people across the country stopped paying their mortgages, and the banking system nearly collapsed as a result.
Today it's a similar situation; a lot of people are going to stop paying their mortgages, credit cards, auto loans, etc. And that directly impacts the banks.
…click on the above link to read the rest of the article…
Following years of depressed farm income and rising debt levels, a review of the Federal Deposit Insurance Corporation (FDIC) quarterly report by Tri-State Livestock News reveals that "delinquency rates for commercial agricultural loans in both the real estate and non-real estate lending sectors are at a six-year high."
About 2.5% of commercial real estate loans in agriculture were 30 days past due in 1Q19, up from 2.1% in the prior quarter and above the historical average of 2.1%. 2.3% of non-real estate loans in agriculture held by commercial lenders were 30 days past due, up from 1.5% in the previous quarter and above the historical average of 1.7%. Delinquency rates for commercial lenders haven't been this high since 2013.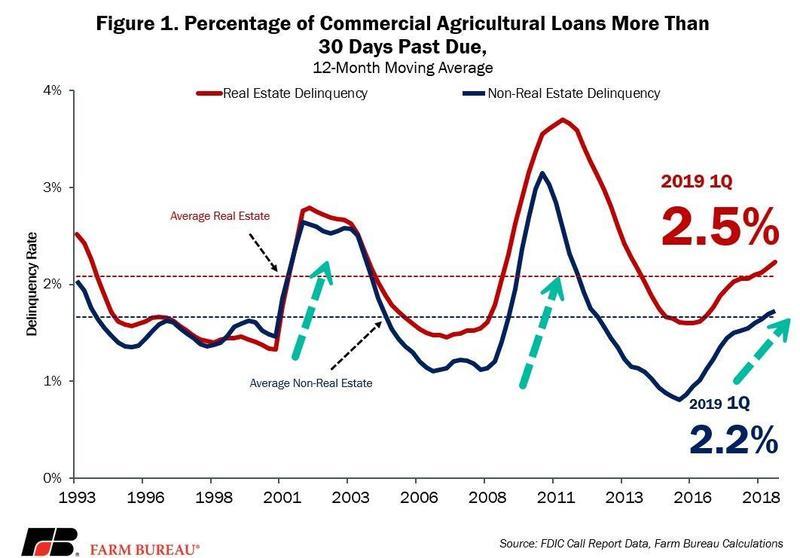 Delinquency rates of agriculture loans aren't at crisis levels yet but have trended above historical averages in the last several years as farm incomes in the Midwest and Mid-Southern states have collapsed over the previous six years.
Net farm income, a broad measure of profits, has fallen 45% since a high of $123.4 billion in 2013 to about $63 billion last year, according to the US Department of Agriculture (USDA).
Farm incomes are expected to be significantly lower in 2019 as record floods devastated large parts of the Farm Belt this year.
About two-thirds of agriculture banks surveyed by the St. Louis Fed said their farm clients were severely affected by the flooding and other adverse weather conditions through summer.
Farm incomes in several regions of the Midwest have become stable this year thanks to President Trump's farm bailout(s) and elevated corn prices that started in May due to yield concerns following wet weather, according to bankers surveyed by the Kansas City Fed.
…click on the above link to read the rest of the article…
Perhaps the biggest farce to result from the Dodd-Frank legislation designed to "rein in" banks was the ridiculous notion of "living wills" –  a concept that makes zero sense in an environment where the failure of even one bank assures a systemic crisis and could – as the Lehman financial crisis showed – lead to the collapse of all other interlinked financial institutions.
Which is why we were not surprised to read this morning that federal regulators announced that five out of eight of the biggest U.S. banks do not have credible plans for winding down operations during a crisis without the help of public money.
Which is precisely the point: now that the precedent has been set and banks know they can rely on the generosity of taxpayers (with the blessing of legislators) why should they even bother planning; they know very well that if just one bank fails, all would face collapse, and the only recourse would be trillions more in taxpayer aid.
As Reuters writes, the "living wills" that the Federal Reserve and Federal Deposit Insurance Corporation jointly agreed were not credible came from Bank of America, Bank of New York Mellon, J.P. Morgan Chase, State Street, Wells Fargo. What is more impressive is that the Fed and FDIC found any living will to be credible.
Also amusing: it was only the FDIC which alone determined that the plan submitted by Goldman Sachs was not credible while the Goldman-dominated Fed gave its blessing; alternatively, the Federal Reserve Board on its own found that the plan of Morgan Stanley – Goldman's arch rival in investment banking – not credible. Citigroup's living will did pass, but the regulators noted it had "shortcomings."
…click on the above link to read the rest of the article…