It's been a long dry spell in the Permian. Shale drilling and completions activity has collapsed to levels not seen since before 2000 (as far back as records are kept). That was the year shale activity first began to pick up from essentially nil and hit all-time peaks in 2008. With occasional ebbs and flows, it had gradually drifted down to the start of the current calamity, where active rigs stood at a somewhat healthy 805 rigs turning to the right.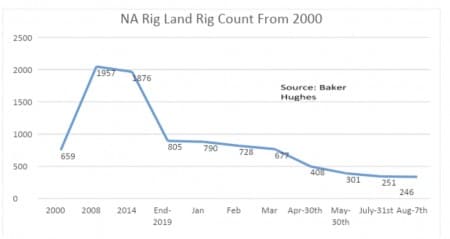 Fracking has also taken a commensurate dive over the last eight months, defying the conventional wisdom that as prices began to improve, activity would increase. It hasn't happened in either case. Why?
Driven by low prices not seen much in modern history, formerly high-flying shale drillers like Chesapeake Energy have gone bankrupt. The service providers who do the actual work like Halliburton, (NYSE:HAL), Schlumberger, (NYSE:SLB) have written off tens of billions worth of fracking-related equipment, closed facilities and laid off thousands of workers.
Much of the expansion from 2016 onward was fueled by growth at any cost mindset in the drillers, and aided by bankers willing to accept ever-increasing estimates for the value of reserves. In 2018 much of that laissez-faire mentality in the boardrooms of the drillers and in the vaults of the bankers came to an abrupt halt as profits and cash flow were demanded. That was the moment shale activity began to falter numerically, while at the same time, a miracle was taking place. Production grew from advances in technology and a deeper understanding of key reservoirs to record levels.
EIA-STEO
Peaking at nearly 13 mm BOE in March of this year, a failure of OPEC+ nations to agree on production cuts that same month, led oil to begin a precipitous decline in price.
…click on the above link to read the rest of the article…