Laurie King shares insights from the Shetland Islands.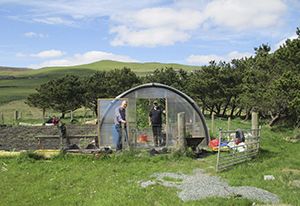 People across the UK have been growing more vegetables this year. Seed producers have reported a large increase in sales since the appearance of Covid-19. This is not only a consequence of people having more time to invest in their gardens and allotments, but also, judging by the amount of stockpiling that took hold across many countries, a concern that they are going to have to provide for themselves as the crisis bites.
Food security has become a hot topic. But in the Shetland Islands, one of the most remote places to live in the UK, local people have been concerned about it for a while. Global pandemics aside, many Shetlanders are worried about the impacts of climate change on global food supply chains. They are at the end of the chain, as their food supplies are shipped in from the UK mainland more than 100 miles away – peppers from Spain have to travel an extra 12 hours to make it to the Shetland shops.
The Shetland economy relies heavily on its seafood exports and on global imports, which find their way to the shop and supermarket shelves. This is a symptom of the current global trade system, and adjustments would need to be made for Shetland to become more self-sufficient.
"If systems were in place, there could be enough local fish, dairy, meat and probably eggs in Shetland to feed the population," explains Marian Armitage, chair of Shetland Food & Drink Association, which supports local food and drink producers. At some points in the year there is even a surplus of local milk. To avoid wastage, a local company has a new venture to make ice cream to support Shetland Farm Dairies.
…click on the above link to read the rest of the article…