From the Energy Minister's media release:
Australia to boost fuel security and establish national oil reserve
The Australian Government is boosting the nation's long-term fuel security by taking advantage of dramatic falls in global oil prices and building on our historic agreement with the United States to access their Strategic Petroleum Reserve (SPR).
Australia has been negotiating access to the SPR since 2018, with Minister Taylor and US Energy Secretary Dan Brouillette signing the first arrangement of its kind to facilitate this deal in March of this year.
Australia will spend $94 million to buy oil at the current low global prices. Australia has access to hold oil in the US SPR for an initial period of 10 years.
https://www.minister.industry.gov.au/ministers/taylor/media-releases/australia-boost-fuel-security-and-establish-national-oil-reserve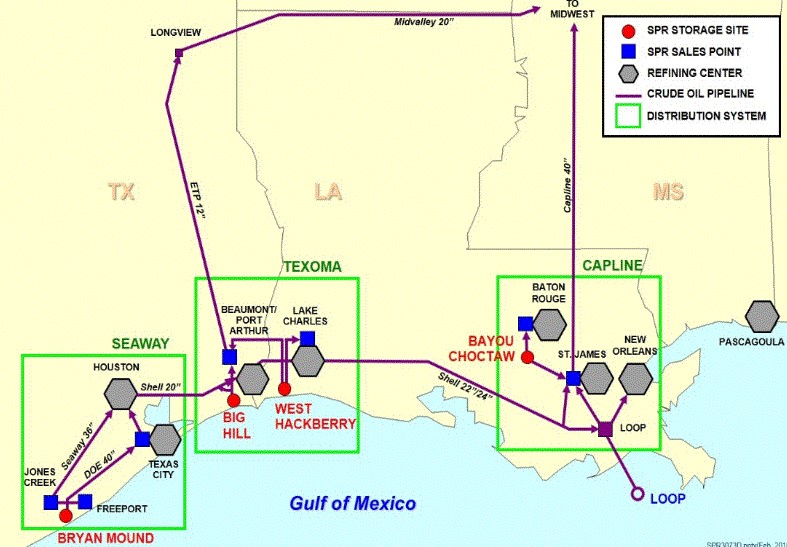 Fig 1: Location of SPR caverns
https://www.energy.gov/sites/prod/files/2019/02/f59/EXEC-2018-001277%20-%202017%20SPR%20Report.pdf
Bryan Mound: Freeport, 19 caverns, 247 MMbbl
Big Hill: 14 caverns, 170 MMbbl
West Hackberry: 21 caverns, 220 MMbbl
Bayou Choctaw: Mississippi, 9 caverns, 76 MMbbl
Drawdown rates and type of oil see Fig 12
Australia boosts oil reserves, but how many barrels does $94 million get?
24/4/2020
Federal Minister for Energy Angus Taylor told ABC News Breakfast on Thursday the country would go through about 1 million barrels — roughly 159 million litres — a day. This figure has been consistent for at least the past five years according to the Australian Petroleum Statistics.
On Thursday, crude oil was trading at roughly $22 per barrel in Australia, which resulted in roughly 4.2 million barrels for a $94 million purchase. So, Australia has purchased roughly four to five days' worth of crude oil from the United States.
https://www.abc.net.au/news/2020-04-24/explainer3a-australia27s-oil-purchase/12177060
In fact, consumption of petroleum products has been increasing (before Corona virus):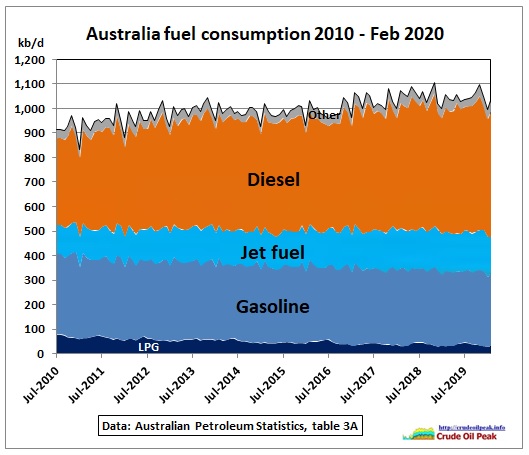 Fig 2: Fuel consumption
But the SPR is about replacing lost crude oil imports, not product imports.
Fig 3: Australia's crude imports by country
Crude imports from neighbouring Asian countries have been in decline for 10 years because production in these countries has peaked as shown in this graph:
…click on the above link to read the rest of the article…