We can't print ourselves out of this crisis again, but that isn't stopping the Federal Reserve from trying. Thursday's intervention program, the latest in a string of panic moves to keep the financial system afloat, constitutes a complete takeover attempt of the market ecosphere, only the buying of stocks directly is last missing piece of eventual complete central bank control of equity markets. But seizing control of the bond market is the nearest equivalent step.
Not only that, the Fed is buying junk corporate debt propping up companies that should be let to fail as Chamath Palihapitiya pointed out poignantly this week. But not this Fed, no, with its actions it is again setting up the economy for yet another slower growth recovery, financed by even more debt.
QE doesn't produce growth, that is the established track record:
Nobody wants to talk about the consequences to come following this crisis, but that doesn't mean the consequences won't be a real and present reality.
No, the Fed, while trying to save the world, is once again engaged in vastly distorting asset prices from the fundamental reality of the economy. It is in essence again laying the foundation for the next bubble, while the bursting of this bubble has yet to be fully priced in.
Even the Wall Street Editorial Board has made it perfectly clear what this is all about:
---
The @WSJ Editorial Board tells you what the new price distortion is all about: Save Wall Street and the top 1% and hope for trickle down economics later:https://www.wsj.com/articles/the-feds-main-street-mistake-11586474912 …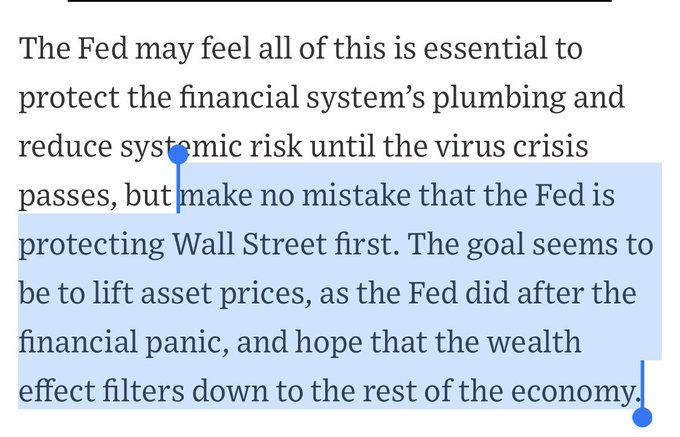 ---
Asset price inflation to save markets in the hopes of trickle down growth to come.
Absurd.
The message the Fed is again is sending is to invite reckless behavior on the side of investors, the same reckless, TINA, fueled behavior that got us the bubble blow-off top in February.
…click on the above link to read the rest of the article…