Crude prices are plunging early in Asian trading with Brent down 12% following a delay to the much-hoped-for OPEC+ meeting (due tomorrow, Monday, but now pushed off until Thursday).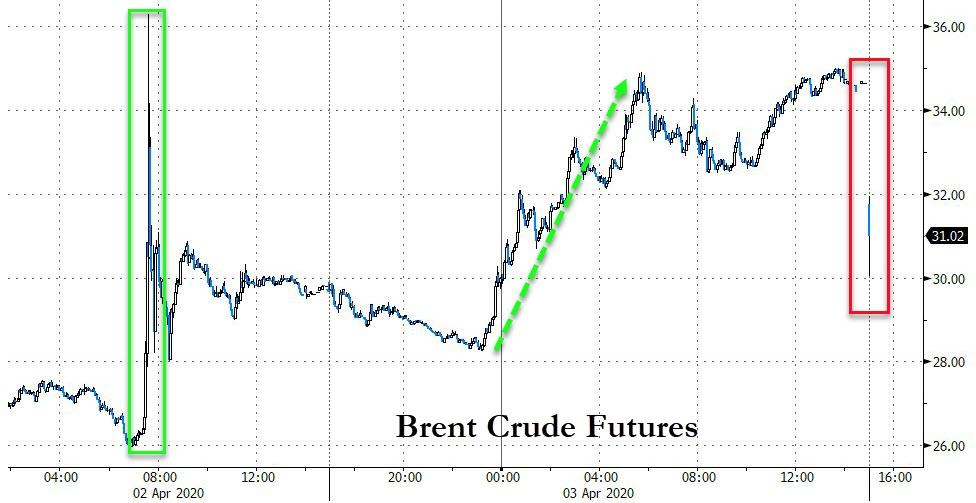 As Ransquawk details, an OPEC+ call that was scheduled for Monday has been delayed until Thursday, amid an intensifying dispute between Russia and Saudi Arabia over who is to blame for falling crude prices.Participants are to discuss the demand hit to crude from COVID-19. Analysts do not seem to be convinced that the group will make sufficient progress; the Saudis and Russia have called for other global producers – namely US, Canada and Mexico – to share the burden of cuts, while Norway has also said it would consider cutting production in any coordinated global effort.
LEVEL OF CUTS: Ahead of the now notorious March OPEC meeting, there was a recommendation to cut an additional 1.5mln BPD from April 2020 through the end of 2020, with a review in June. The deal was conditional on support from OPEC+, and OPEC said any deal could only be applied on a pro-rata basis, and proposed core members cut by 1mln BPD, and non-OPEC by 500k. Ahead of Thursday's meeting, a figure of 10mln BPD cut to output has been floated (around 10% of global supply), although following a call with Saudi Arabia, US President Trump last week indicated that it could be as much as 15mln BPD. A source has suggested that the 10mln should be slashed from current levels of output. Either way, Goldman Sachs thinks that the demand hit might actually be more like 26mln BPD, and a cut of 10mln BPD may prove to be insufficient.
…click on the above link to read the rest of the article…