Talk about a coincidence: just as we were discussing why April would be "apocalyptic" for the oil industry, as Saudi Arabia just unleashed an unprecedented record amount of oil to buyers in a scramble to put its high-priced competitors out of business, warning that "countless oil producers would file for bankruptcy", former shale darling Whiting Petroleum did just that, filing a pre-packaged Chapter 11 deal in the Southern District of Texas Bankruptcy Court after reaching an agreement with certain note holders to pursue a "comprehensive" and "consensual" financial restructuring.
Whiting, which in Q4 pumped 123,000 bpd of which 80,000 bpd was nat gas, said it concluded that given a "severe downturn" in oil and gas prices resulting from the Saudi Arabia-Russia oil price war and COVID-19-related impact on demand a financial restructuring was the "best path forward." Creditors may disagree: the company's bonds due March 2021 were trading at par as recently as mid-January, even though we warned as far back as 2015 that it would be the first company to go under: truly a testament to how idiotic the junk bond market has been for the past 4 years.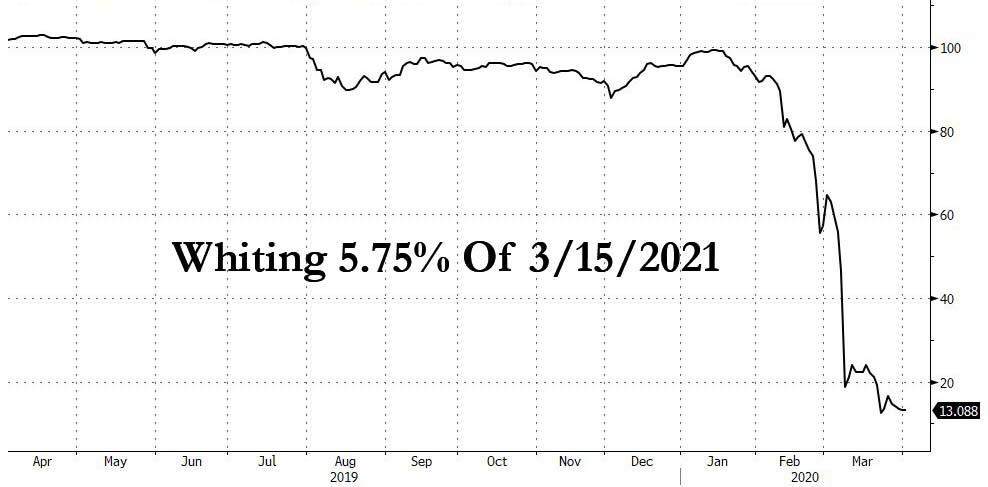 The company said that the plan provides for de-leveraging of capital structure by more than $2.2 billion, and listed $1-$10 billion in debt and more than $585 million of cash on its balance sheet, noting that it expects to have sufficient liquidity to meet its financial obligations during the restructuring without the need for additional financing.
More importantly, it will continue to operate its business and pump oil for the duration of the Chapter 11 proceedings, meaning that oil production won't decline by even one drop.
The bankruptcy press release is below:
…click on the above link to read the rest of the article…