Over a decade since central bankers started a stealthy nationalization of capital markets by purchasing a wide range of securities from Trasuries, to MBS, to corporate bonds, to ETFs and single stocks, their actions are finally catching up to them, and in the process breaking the very markets central bankers have worked so hard to prop up. And nowhere is this more obvious than in Japan, where the shrinking universe of Japanese government bonds (as a reminder the BOJ now owns more than 100% of Japanese GDP in JGBs) is "causing havoc" in Japanese money markets as the Bank of Japan continues to buy while dealers refuse to sell.
The result is that rates in Japan's repo market, which traditionally connects holders of bonds with investors looking to borrow them, jumped to a record Tuesday (although they since retreated on Wednesday) because as Bloomberg notes, "the introduction of cheaper, more regular dollar-swap auctions has generated huge demand from U.S. currency-starved dealers who are keeping their JGBs to put them down as collateral."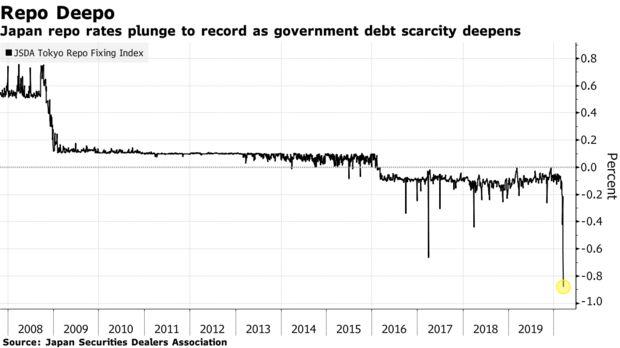 So here is what the math looks like now that the Fed has launched enhanced swap lines with central banks such as the BOJ, allowing local entities to obtain dollar funding at much lower rates: in last week's first round of the Fed's revamped dollar-swap auctions, banks borrowed greenbacks for about 3-months at 0.37%, a massive discount to the near 2% it would cost them in the currency swap market. $32 billion was alloted in the first operation.
…click on the above link to read the rest of the article…