Shares of shale oil drillers collapsed by 25%-50% today. Their bonds got massacred. Saudi-Russia price-war strategy appears successful in wiping out investors in the US shale-oil sector.
It was so chaotic and brutal in the crude oil market today that the EIA, which is part of the US Department of Energy, emailed out a statement that it would have to delay its monthly Energy Outlook to figure in all the chaos: "We have delayed the release of the Short-Term Energy Outlook to allow time to incorporate recent global oil market events. The outlook will now be released Wednesday, March 11, at 9:00 a.m."
Shares of Occidental Petroleum, which is heavily involved in US shale oil and gas, collapsed by 53% today to $12.51. They're down 85% since October 2018, when phase two of the Great American Oil Bust set in, with phase one having commenced in July 2014:
Oxy's bonds – those that even traded – collapsed today. For example, this $750 million 30-year senior unsecured bond, with a coupon interest of 4.1%, closed on Friday at 92.5 cents on the dollar. Like many bonds, they don't trade much, but are stuck in bond funds or held by institutional investors, and it's hard to sell them because there are not many buyers.
Today, there are only two trades listed on FINRA-Morningstar, but they were big trades, with institutional investors unloading them for whatever they could get. So the price today collapsed by 34% from the close on Friday, and by 39% over the past three trading days, to 61 cents on the dollar: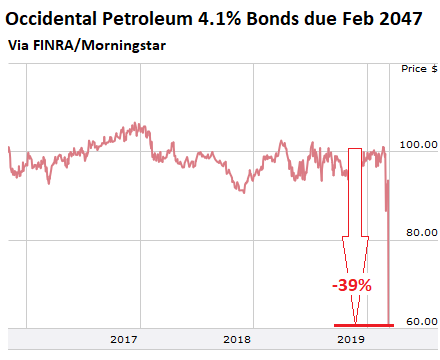 Shares of Chesapeake Energy, a former shale oil-and-gas giant, particularly focused on natural gas, plunged 28% today, from nearly nothing to almost nothing, closing at $0.16. The company has been dilly-dallying around near the bankruptcy-filing counter for years, without having filed yet, as investors continued to feed it fresh cash and agreed to haircuts and restructure its debts. But that fresh-cash option appears to be off the table.
…click on the above link to read the rest of the article…