New highs again for tech as $NDX keeps relentlessly crawling higher, now 16.2% extended above its 200MA. As outlined yesterday's it's a key warning signal.
This latest rally has produced another warning signal and that is the leadership in $NDX is narrowing dramatically. Narrowing leadership has spelled trouble for $NDX in the past, especially as it is building tightening and steep price channels and/or wedge patterns.
Now we can observe this again, specifically in new highs versus new lows:
Note during the summer rally of 2018 $NDX built a tightening wedge patter and new highs versus new lows started showing ever more pronounced weakening. Indeed the final highs in October 2018 came on virtually flat new highs versus lows. Markets broke down shortly after that.
Similar weakening patterns can be observed in the 2019 rallies before they produced short term corrections.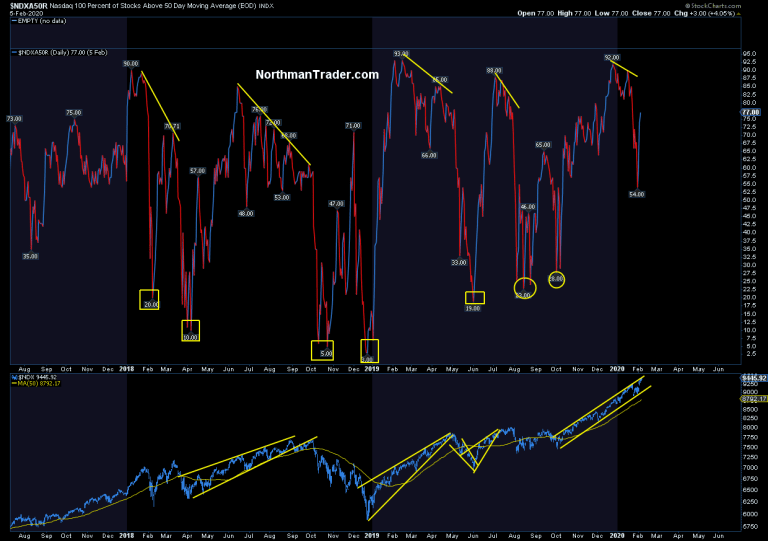 Since October (thanks Fed) $NDX has embarked on its steepest and most narrow channel in many years. Last week's coronavirus scare landed $NDX on the support trend line, this week's coronavirus optimism rally has brought $NDX back to its upper channel trend line. Algo ping pong?
Be that as it may but note the dramatically lower expansion in new lows versus new lows on this latest rally versus the previous January rally.
What's driving it? Simple: Many components in $NDX are much weaker than record prices on the index indicate. And we can also see this in the number of components above their 50MA. Much weaker on the latest rally to new highs:
…click on the above link to read the rest of the article…