Oil futures remain in a bear market following the collapse in oil demand from China amid two-thirds of its economy shutdown following the coronavirus outbreak.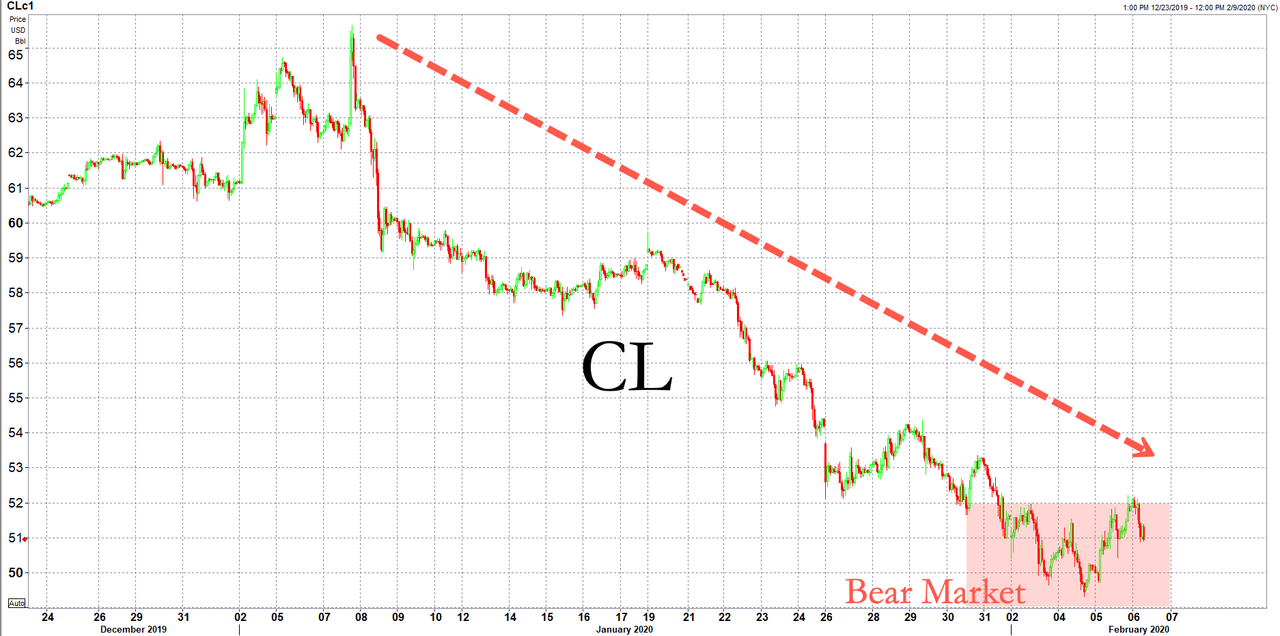 This forced the OPEC+ technical committee to meet in Vienna, Austria, for a third day this week, to discuss the importance of slashing oil output by at least 500,000 barrels per day (bpd), reported Reuters.
The Joint Technical Committee (JTC) is an advising body of OPEC and Russia, known as OPEC+.
As of Thursday, there's no firm decision by the technical committee to cut oil production. This is because Russia has opposed to cuts and said it would be willing to agree on an extension of current cuts.
Ransquawk reports that the meeting has officially ended without a planned resolution of production cuts.
The technical committee meeting comes ahead of a planned OPEC+ conference on March 5-6.
OPEC+ has already agreed in December to remove 1.7 million bpd from markets in response to a slowing global economy. Now the deadly virus outbreak has created a "shock" in the global economy as China's economy grinds to a halt. The country is the largest importer of crude in the world, suggesting that demand has collapsed, and oil prices will plunge deeper if supply isn't curbed.
Russian Energy Minister Alexander Novak said on Tuesday that he wasn't sure if it was time to tighten output further.
BP CFO Brian Gilvary warned Tuesday that the virus outbreak has reduced 2020 global demand growth by 300,000-500,000 bpd, or about 0.5%.
…click on the above link to read the rest of the article…