Low natural gas prices have finally brought the decade-long shale gas boom in Appalachia to a halt.close
Gas production in Appalachia declined by about 1 billion cubic feet per day (Bcf/d) over the past 30 days, bringing output down to an average of 32.7 Bcf/d, according to S&P Global Platts Analytics. That helped drag down overall U.S. gas production to 91.8 Bcf/d, a 1.7 percent decline from 93.4 Bcf/d in November.
The Permian hogs a lot of attention in the press, but the Marcellus shale has been growing at a blistering rate for about a decade. That is now coming to an end as the shale gas industry struggles with oversupply and low prices, lack of profits, debt, investor skepticism and also competition from associated gas in the Permian.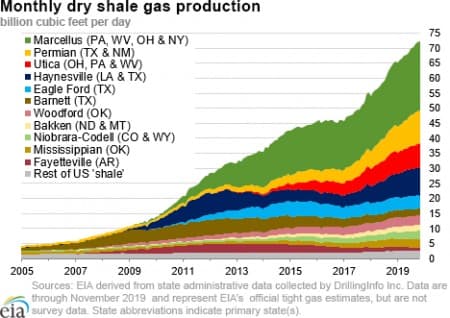 Natural gas prices fell sharply last year, ending the year down more than 25 percent. The rig count in the Marcellus fell by 1 last week, dropping the total to 40. Eight months ago there were 65 rigs operating in the area.
Front-month gas contracts are trading at about $2.12/MMBtu, although at the wellhead prices can be much weaker. S&P said that prices at Dominion South, a hub in the Marcellus, have averaged just $1.78/MMBtu in the past month. S&P says that average breakeven prices are $1.80/MMBtu, but that likely understates the price level that drillers need, given the struggles that many have gone through. Related: How Long Will The Oil Price Fear Premium Last?
"Gas prices are down. It has a big impact, the difference between $2.75 gas and $2.50 gas," Toby Rice, EQT's new president and CEO, told the West Virginian legislature in December "A lot of this development doesn't work as well at $2.50 gas."
…click on the above link to read the rest of the article…