Alberta's oil sands produce one of the dirtiest oils on the planet. If the Teck mega mine is approved, the damage to our planet will be colossal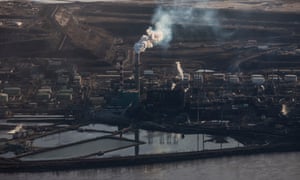 This week, the Canadian government is in Madrid telling the world that climate action is its No 1 priority. When they get home, Justin Trudeau's newly re-elected government will decide whether to throw more fuel on the fires of climate change by giving the go-ahead to construction of the largest open-pit oil sands mine in Canadian history.
Approving Teck Resources' Frontier mine would effectively signal Canada's abandonment of its international climate goals. The mega mine would operate until 2067, adding a whopping 6 megatonnes of climate pollution every year. That's on top of the increasing amount of carbon that Canada's petroleum producers are already pumping out every year.
The Teck mega mine would be on Dene and Cree territory, close to Indigenous communities. The area is home to one of the last free-roaming herds of wood bison, it's along the migration route for the only wild population of endangered whooping cranes, and is just 30km from the boundary of Wood Buffalo national park – a Unesco world heritage site because of its cultural importance and biodiversity.Advertisement
Alberta's oil sands produce one of the dirtiest oils on the planet, and they are the fastest-growing source of carbon emissions in Canada. The industry is expanding rapidly and is already responsible for more carbon pollution than all of Quebec. Oil and gas is now the largest climate polluter in the country, exceeding all greenhouse gases from transportation.
…click on the above link to read the rest of the article…