France is bracing for major transportation disruptions throughout the country starting Thursday, as trade unions launch a strike in response to changes President Emmanuel Macron wants to make to the country's retirement system, while port blockades have resulted in widespread fuel shortages across the country. Much of the Paris Metro will be shut down, as will many national and international train lines, including certain Eurostar services. Flights will also be canceled, as air traffic controllers say they will join the protests through Saturday.
Hundreds of filling stations around western France have run out of gasoline and diesel as blockades of oil refineries enter their second week according to industry group UFIP. According to The Local, construction workers have been blockading refineries in Brittany since last week and a blockade at La Rochelle has resumed.
French media reported on Tuesday morning that 390 filling stations have no fuel at all, and another 389 have limited supplies. The areas affected include Brittany, the west of France, the south east coast area around Marseille and some parts of eastern France near the Swiss border.
For an interactive map of which filling stations are affected, click here.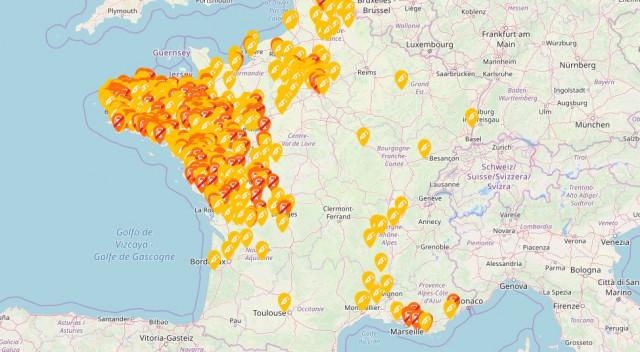 Workers are staging blockages at depots in Brest, Lorient, Le Mans and Vern-sur-Seiche. Further south, in the region of La Rochelle, another blockade was cleared at 4.30pm on Friday, but resumed at midnight on Monday. The blockaders belong to the public construction group BTP, Bâtiments et Travaux Publics ("Buildings and Public Construction"). They are protesting a fuel tax hike planned for 2020, which they say will have a negative financial impact on their companies. Until now, the so-called gazole non routier (GNR), used mainly by construction workers and farmers, is subject to a tax benefit that is planned to be phased out in 2020.
…click on the above link to read the rest of the article…