Home » Posts tagged 'strikes'
Tag Archives:
strikes
French labor unions have been holding several days of mass strikes and protests against raising the retirement age, in a test of the momentum driving defiance to Emmanuel Macron's signature economic reform… which is hardly surprising: France is one of the biggest "western" bastions of socialism.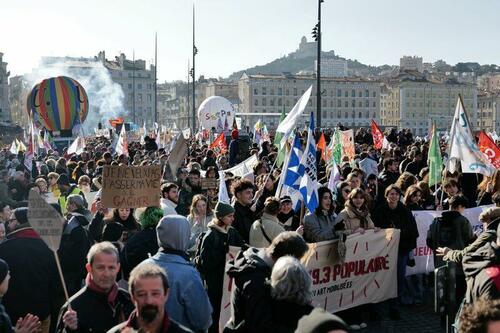 As Bloomberg reports, the country's rail operator, SNCF, said only one-third of high-speed TGVs were running and urged people to work from home. Subway and commuter trains serving the capital were severely disrupted, with limited service on most lines. Many schools were also closed.
Protesters also blocked three oil refineries operated by TotalEnergies SE and strikes by Electricite de France SA's workforce took more than 3 gigawatts of nuclear-reactor capacity offline. Air France-KLM's French arm said it had scrapped 10% of short-haul flights.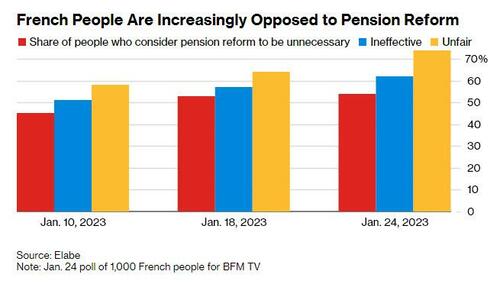 Macron, already very unpopular, has faced the biggest protests yet of his time as president on Jan. 19 when the country's usually fragmented unions united to bring more than 1.1 million people onto the streets. Polls carried out since suggest opposition is growing: a Feb 1 poll carried out by BVA for RTL which surveyed 1,001 people showed that 60% of participants oppose pension reform, up 2 points.
Speaking to French television channels at the start of the Paris March on Tuesday, CGT union head Philippe Martinez said there were more people in the streets than Jan. 19.
"The president and the government must hear the discontent and change their plan," Martinez said, and perhaps he is right: after all, why work when the ECB can just print and make everyone super wealthy.
According to a government count mid-way through the day, fewer public sector workers went on strike than Jan. 19. Martinez said many chose not to this time in order to preserve their wages, while a bigger turnout of white collar, private sector workers made up the numbers.
…click on the above link to read the rest…