For those who have at times struggled to understand the difference between COMEX inventory categories 'registered gold' and 'eligible gold', now your head can spin even more, since the CME's COMEX has just introduced a new category – 'pledged gold'.
This pledged category was first noticed on the infamous COMEX warehouse gold stocks report late last week by Nick Laird of GoldChartsRUsfame, with the pledged gold column intriguingly populated with an entry next to the New York vault of bullion bank, HSBC. What did this pledged column entry mean, we wondered, and where did it come from?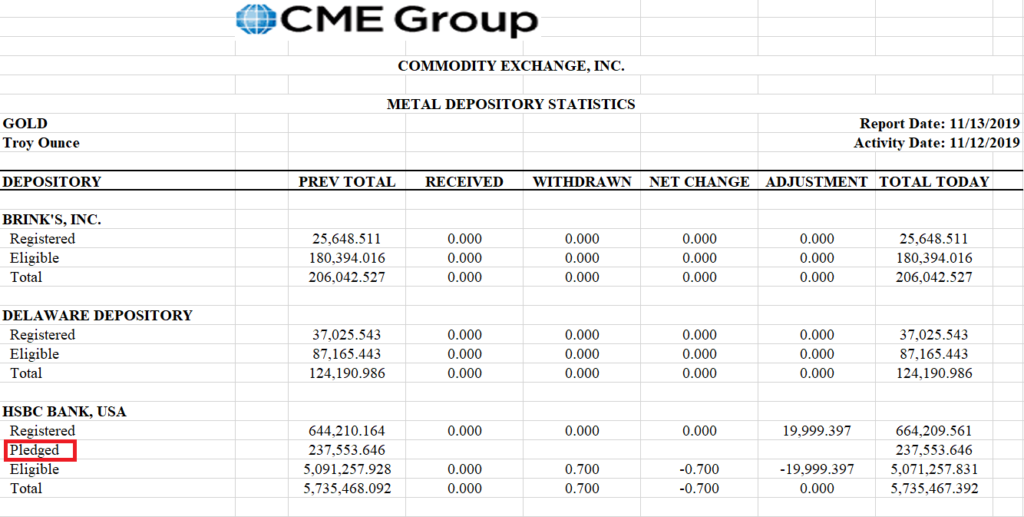 After some digging on the CME website, the answer was revealed. Pledged is a new gold inventory category representing COMEX gold warrants which have been deposited with CME Clearing as performance bond collateral, in other words margin collateral. CME defines performance bonds as follows:
"Performance Bonds, also known as margins, are deposits held at CME Clearing to ensure that clearing members can meet their obligations to their customers and to CME Clearing."
Before looking at how this relates to COMEX gold, a quick recap and some definitions are in order. Although COMEX gold futures rarely settle physically in gold, they are physically deliverable contracts which are capable of being settled in real gold. believe it or not. However in 2018, for example, COMEX gold deliveries totalled just 1.6 million ounces (51 tonnes), meaning that 99.98% of COMEX gold futures did not result in physical delivery, a Ponzi scheme if ever there was one.
But since 0.02% of COMEX gold futures do physically settle, at least by some shuffling of  warrants between bullion banks, the CME has therefore approved the vaulting facilities operated by nine vault providers in and around New York City and Delaware, which it refers to as depositories or approved warehouses, which can store gold that can be used for contract settlement.
…click on the above link to read the rest of the article…