After nearly six months of protests in Hong Kong, the weekend demonstrations – which more closely resemble street skirmishes between black-clad protesters and the cops – have grown increasingly violent, people are being seriously wounded and even killed on both sides. And this week, protesters have apparently committed to another escalation: they've taken to the streets to disrupt HK's public transportation during Monday and Tuesday, forcing businesses to close and schools to cancel.
Hong Kong policed warned on Tuesday that the city is now "on the brink of total collapse" after a second straight day of violence and chaos. The MTR, Hong Kong's subway network, closed several stations and reduced the frequency of trains to cope with the demonstrations.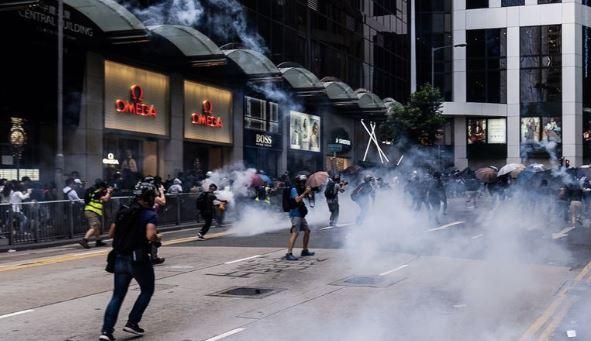 Some commuters were forced to walk along rail tracks to the next stop to catch a train to work. A senior police superintendent insisted that the 'rioters' – a term used pejoratively to describe the protesters – were pushing "our society" toward a breakdown.
"Over the past two days, our society has been pushed to the brink of a total breakdown as rioters went on a rampage," Kong Wing-cheung, a senior police superintendent, said in a press conference.
Hong Kong Chief Executive Carrie Lam accused protesters on Tuesday of trying to "paralyze" the city. She accused demonstrators of being "extremely selfish" and said she hoped all universities in Hong Kong would encourage students not to participate in the violence.
Of course, the violence has gone both ways. Lam was speaking one day after police shot a protester and a man was set on fire in some of the most dramatic violence to arise from the protests. Lam added that the city planned to hold local elections on Nov. 24, the first test of public sentiment since the pro-democracy protests began five months ago.
…click on the above link to read the rest of the article…