The fastest increase in assets for any two-month period since the post-Lehman freak show in late 2008 and early 2009.
Total assets on the Fed's balance sheet, released today, jumped by $94 billion over the past month through November 6, to $4.04 trillion, after having jumped $184 billion in September. Over those two months combined, as the Fed got suckered by the repo market, it piled $278 billion onto it balance sheet, the fastest increase since the post-Lehman month in late 2008 and early 2009, when all heck had broken loose – this is how crazy the Fed has gotten trying to bail out the crybabies on Wall Street: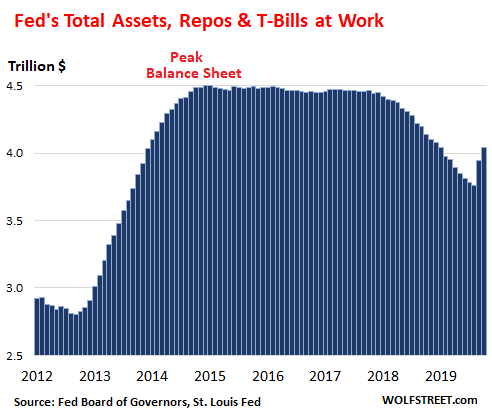 Repos
In response to the repo market blowout that recommenced in mid-September, the New York Fed jumped back into the repo market with both feet. Back in the day, it used to conduct repo operations routinely as its standard way of controlling short-term interest rates. But during the Financial Crisis, the Fed switched from repo operations to emergency bailout loans, zero-interest-rate policy, QE, and paying interest on excess reserves. Repos were no longer needed to control short-term rates and were abandoned.
Then in September, as repo rates spiked, the New York Fed dragged its big gun back out of the shed. With the repurchase agreements, the Fed buys Treasury securities and mortgage-backed securities guaranteed by Fannie Mae and Freddie Mac, or Ginnie Mae, and hands out cash. When the securities mature, the counter parties are required to take back the securities and return the cash plus interest to the Fed.
Since then, the New York Fed has engaged in two types of repo operations: Overnight repurchase agreements that unwind the next business day; and multi-day repo operations, such as 14-day repos, that unwind at maturity, such as after 14 days.
 …click on the above link to read the rest of the article…