"I do believe that in North America it is a cyclical downturn": Cummins COO.
Orders for heavy trucks, after the historic boom in 2018, plunged this year, but they may have finally bottomed out. In October 2019, truck makers in the US received about 22,072 orders for Class-8 trucks, according to preliminary estimates by FTR Transportation Intelligence. While up by about 10,000 orders from the dismal levels in September, and the highest number so far this year, orders were still down 51% from October last year ago, "signifying a subdued beginning to the traditional start of the ordering season," FTR said: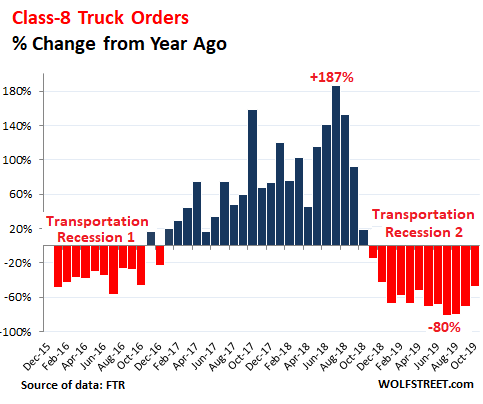 "The order level was boosted by a couple of big fleets placing large orders into 2020, but otherwise smaller orders were placed for the first quarter build," FTR said in a statement. "Cancellations are expected to remain elevated as OEM's shake out excess 2019 orders from the backlog."
These OEMs are Freightliner, the largest truck maker in the US, and Western Star, both divisions of Daimler; Peterbilt and Kenworth, divisions of Paccar [PCAR]; Navistar International [NAV]; and Mack Trucks and Volvo Trucks, divisions of Volvo Group.
The historic boom of Class-8 truck orders that started in late 2017 and roared through most of 2018 was a result of a series of events triggered by all kinds of companies trying to front-run potential tariffs. Companies ordered excessively to dodge the tariffs, and they filled their warehouses, and it triggered a shipment boom. To meet this demand, trucking companies responded by ordering a historic number of trucks.
But this boom began to unwind in late 2018, and then turned into a collapse of orders that lasted through September 2019 when it appeared to have hit bottom. October looked better. But October 2016 looked better too, only to be followed by a very tough year. Orders in October 2019 were the lowest for any October since 2016:
…click on the above link to read the rest of the article…