Several days ago, Ed Vallee, head meteorologist at Empire Weather LLC, stated that an Arctic blast of cold air would roll into the Mid-Atlantic and Northeast regions later in the week, with the chance of producing one of the first snowmaking weather events of the year.
As of Wednesday morning, there's more evidence that Vallee's forecast has been spot on. Tens of millions across the Mid-Atlantic and Northeast regions will get an early shot of winter over the next several days.
The first round of Arctic air will make its way from the north-central U.S. into the Great Lakes and Northeast Wednesday through Saturday. The cold weather could produce the first significant snowstorm of the year for parts of the interior, including places like northern New England, where at least 6 inches of snow is expected Thursday into Friday.
Another blast of Arctic air will arrive across the Mid-Atlantic and Northeast regions early next week. 
---
The first shot of deepening cold will be ushered in by a storm bringing soaking rain to portions of the South and disruptive snow to portions of the Northeast.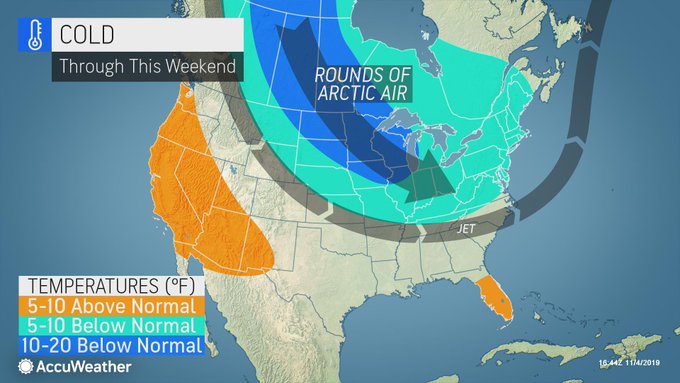 ---
AccuWeather's Dan Kottlowski told USA Today that the eastern two-thirds of the nation could be 20 degrees below average for the first half of November. "A widespread killing freeze is likely to end the growing season across much of the South early next week," he said.
…click on the above link to read the rest of the article…