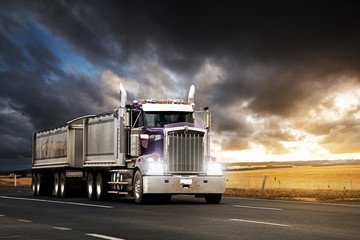 The federal government's jobs report has confirmed that truckers are losing their jobs by the thousands. According to preliminary payroll numbers reported by the Bureau of Labor Statistics last week, around 4,500 trucking jobs were eliminated in the month of August alone.
The worst part is that we can expect that number to get worse in the coming months. According to Business Insider, this is the first time the agency reported a slash in trucking payrolls since March, when 1,200 truckers lost their jobs. That's also the biggest drop since April of 2018 when approximately 5,500 trucking jobs were lost.
Indicators from the trucking industry have been sour in 2019. In the first half of the year, around 640 trucking companies went bankrupt, according to industry data from Broughton Capital LLC. That's more than triple the number of bankruptcies from the same period last year — about 175. –Business Insider
One trucking company's profits plunged recently adding more fuel to the recession fires.  USA Truck reported $2.5 million in net income in the second quarter of 2018. In Q2 2019, it reported $1,000 in profit, according to a separate report from Business Insider. The trucking industry is indeed going through a "bloodbath."
---

Not a number you see very much in quarterly earnings: USA Truck's 2q profit fell to … $1,000.
https://www.arkansasonline.com/news/2019/jul/26/freight-carrier-s-net-falls-to-1-000-20/#.XT2j3bcyRE8.twitter …Arkansas-based freight carrier's profit plummets to $1,000 from $2.5 millionUSA Truck Inc. on Thursday reported a second-quarter profit of $1,000, a fraction of the trucking company's reported profit from a year ago. arkansasonline.com
---
Of course, the news gets even bleaker the further you look. New truck orders sank to a nine-year low in July, according to ACT Research. But that number rebounded slightly in August, with a 6% month-over-month bump.
…click on the above link to read the rest of the article…