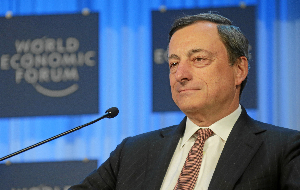 In June 2014 I wrote an article called Draghi's Plan does not fix Europe. In that article, I explained that the structural challenges of the eurozone -high government spending, excessive tax wedge, lack of technology leadership and demographics- were not going to be solved by a round of quantitative easing.
Now, the evidence of the European Union leads the ECB to hint at another stimulus plan. Gone is the triumphalism displayed by of the European Commission on August 2017 (read). The "strong recovery" they credited to the "decisive action of the European Union" has all but disappeared.
The slowdown in the eurozone is not similar to other economies. The ECB has slashed growth estimates consistently and currently expects a level of growth that is half of what they had projected eighteen months ago.
It is fascinating because many analysts tend to discuss the European slowdown as if the stimulus had been abandoned. Far from it. Let us remember that the European Central Bank repurchases all debt maturities in its balance sheet and that it has launched a new liquidity injection (TLTRO) in March this year.
That is why it is appropriate to discuss the severity of the Eurozone slowdown in the context of the chain of fiscal and monetary stimuli that have been implemented. To understand the serious mistake of constantly stumbling on the same stone, we need to understand the size of the fiscal and monetary programs and their underwhelming results.
…click on the above link to read the rest of the article…