Zimbabwe's economic situation will continue to sour in 2H19 due to unfavorable weather conditions, foreign currency shortages and widespread power cuts, its finance minister said, as he responded to a deteriorating economic outlook by blacking out inflation statistics through the second half, and finally acknowledged what the International Monetary Fund told him in April: economic turmoil ahead.
Prices of essential goods and services have, in some cases, quadrupled this summer, due to the government renaming the RTGS currency as the Zimbabwe dollar, which has been on a rapid decline amid shortages, including electrical power, petrol products, American dollars, and food, reported Bloomberg.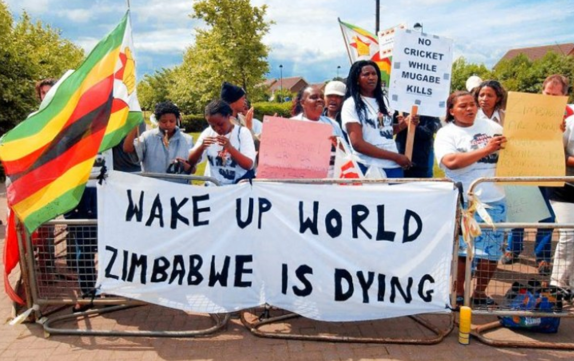 Many Zimbabweans who supported the toppling of decades-long ruler Robert Mugabe two years ago are discovering that their economic situation is the most serious in a decade.
Emmerson Mnangagwa replaced Mugabe in 2017, he promised millions of Zimbabweans of an economic revival and that we are "open for business." The sugar high of optimism only lasted for a short time; the effects of money supply expansion through the sale of Treasury bills under Mugabe's rule has outweighed any positive advancements in the last several years. Mnangagwa outlawed the American dollar in favor of local currency that can't be traded internationally, effectively making it extremely difficult for international firms to do business in the African country.
"Zimbabwe is at a tipping point and if it falls over the edge it's going to be quite a long way in coming back," said Derek Matyszak, a Zimbabwe-based research consultant for South Africa's Institute for Security Studies. "The wheels are falling off. There is no way out of a Ponzi scheme other than a massive infusion of cash to pay off your creditors."
*chart
…click on the above link to read the rest of the article…