According to the latest IIF Global Debt Monitor released today, debt around the globe hit $246 trillion in Q1 2019, rising by $3 trillion in the quarter, and outpacing the rate of growth of the global economy as total debt/GDP rose to 320%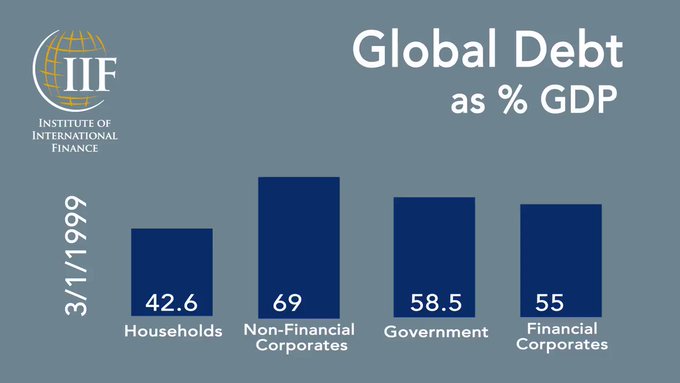 NEW Global Debt Monitor: Global debt hit $246T in Q1 2019, nearly 320% of GDP.

Debt by sector, Q1 2019 (as % of GDP):
Households: 59.8%
Gov't: 87.2%
Financial corporates: 80.8%
This was the second-highest dollar number on record after the first three months of 2018, though debt was higher in 2016 and 2017 as a share of world GDP. Total debt was broken down as follows:
Households: 60% of GDP
Non-financial corporates: 91% of GDP
Government 87% of GDP
Financial Corporations: 81% of GDP
And while the developed world has some more to go before regaining the prior all time leverage high, with borrowing led by the U.S. federal government and by global non-financial business, total debt in emerging markets hit a new all time high, thanks almost entirely to China…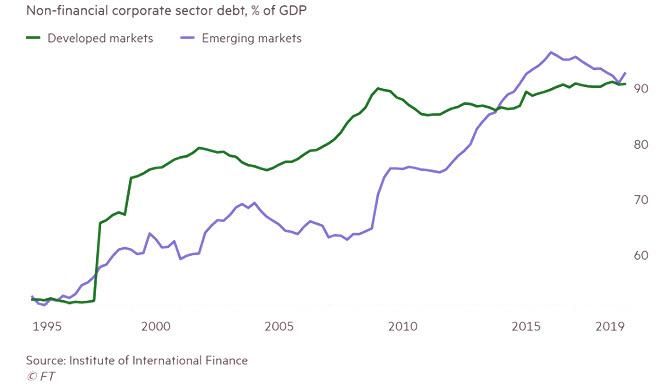 … which has been on such a debt issuance rampage, it would make even Uncle Sam blush, as Chinese corporations owed the equivalent of more than 155% of GDP in March, or nearly $21 trillion, up from about 100% of GDP, or $5 trillion, two decades ago.
And here is a startling fact: according to Fundamental Intelligence, a bond market consultancy, Chinese firms accounted for 42% of all corporate bonds issued in EMs this year, which it warned raised the risk of defaults next year and in 2021.
As a result of China's ravenous debt appetite, emerging economies had the highest-ever level of debt (both corporate and household) at the end of Q1, both in dollar terms and as a share of their gross domestic product, according to the FT's report on the latest IIF data.