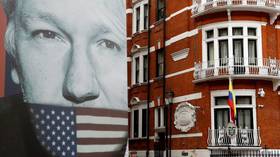 FILE PHOTO: A truck carrying a poster relating to WikiLeaks founder Julian Assange is driven away from the Ecuadorian embassy, London, April 5, 2019 © Reuters / Peter Nicholls
As he faces a major corruption probe, Ecuadorian President Lenin Moreno has met another demand from Washington by booting WikiLeaks journalist Julian Assange out of Ecuador's embassy in London.
Times were different when the WikiLeaks founder walked into Ecuador's London embassy seeking asylum in 2012.
Fearing that his native Australia wouldn't protect him from extradition to the United States, where he faces imprisonment or even execution, Assange appealed to Ecuador's then-president Rafael Correa to grant him refuge from "political persecution."
Ecuador agreed, granting him asylum on the grounds that his "life, safety or personal integrity" could be compromised at any moment.
Having also kicked US troops off its soil just a few years earlier, the tiny South American nation's gesture was applauded by many, including domestically.ALSO ON RT.COMAssange arrest 'absolutely disgusting' & could be 'tit-for-tat' – former MI5 agent to RT
Fast forward seven years, and Ecuador has now handed him over for almost certain extradition.
The country's former consul general in London says the move is not only unwarranted but also illegal under international law.
"This is a violation of the right and the institution of asylum," Fidel Narvaez told me.
Having been delivered to British authorities, the Ecuadorian diplomat says Assange will likely be extradited to the US where "he will surely be sentenced to dozens of years of prison, at the least."
For Narvaez, who was among the Ecuadorian officials who received Assange in 2012, the move is part of a return to a "subservient" foreign policy by the Ecuadorian government under Lenin Moreno.
…click on the above link to read the rest of the article…