After being imprisoned for seven years under draconian conditions which twice drove her to suicide, whistleblower Chelsea Manning has again been thrown behind bars for defending government transparency. Manning has been jailed in contempt of court after refusing to testify before a grand jury related to Assange and WikiLeaks, saying she "will accept whatever you bring upon me."
"The judge said she will remain jailed until she testifies or until the grand jury concludes its work," AP reports.
"Chelsea can be incarcerated for the remainder of the grand jury [up to 18 months], and the term of the grand jury can be extended by six months," Manning's attorney Moira Meltzer-Cohen told Business Insider.
"Note that Manning is not jailed as a 'punishment'," WikiLeaks tweeted. "She has formally been jailed to 'coerce' her into testifying against our journalists (including Assange) for publishing the truth about the US government. She will remain in jail until she breaks and complies or wins on appeal."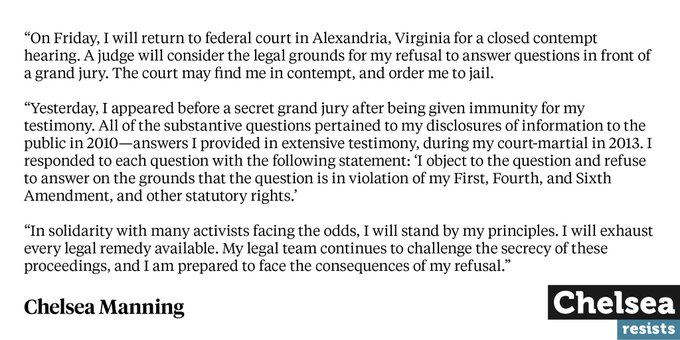 tomorrow i'm facing a sealed contempt hearing for refusing to testify at a secret grand jury over my 2010 disclosures
statement:
Manning responded to all of the grand jury questions by saying, "I object to the question and refuse to answer on the grounds that the question is in violation of my First, Fourth, and Sixth Amendment, and other statutory rights." Manning explained her decision in the following statement:
"I will not comply with this, or any other grand jury. Imprisoning me for my refusal to answer questions only subjects me to additional punishment for my repeatedly-stated ethical objections to the grand jury system. The grand jury's questions pertained to disclosures from nine years ago, and took place six years after an in-depth computer forensics case, in which I testified for almost a full day about these events. I stand by my previous public testimony.
…click on the above link to read the rest of the article…