Calling billionaire Microsoft co-founder 'completely wrong,' Jason Hickels says "those defending poverty line you should be willing to live on it. Lookin' at you, Bill."
Contrary to what Bill Gates and other powerful, wealthy Davos attendees say, Jason Hickel writes, extreme poverty is far from wiped out. (Photo: Jeremy Higgs/Flickr/cc)
Anthropologist and author Jason Hickel swiftly disabused readers of a narrative offered by Microsoft founder Bill Gates this week, rejecting the billionaire's statement on Twitter that "people underestimate just how much life has improved over the last two centuries."
The idea that the free-market capitalism has grown while solving the crisis of extreme poverty around the world may be tempting for some to embrace, Hickel wrote in the Guardian—but it is "completely wrong."
Ahead of his appearance at the World Economic Forum's annual meeting in Davos, Switzerland, Gates shared an infographic on Twitter claiming to show that extreme global poverty has plummeted since 1820, with 94 percent living in poverty 200 years ago compared with just 10 percent today.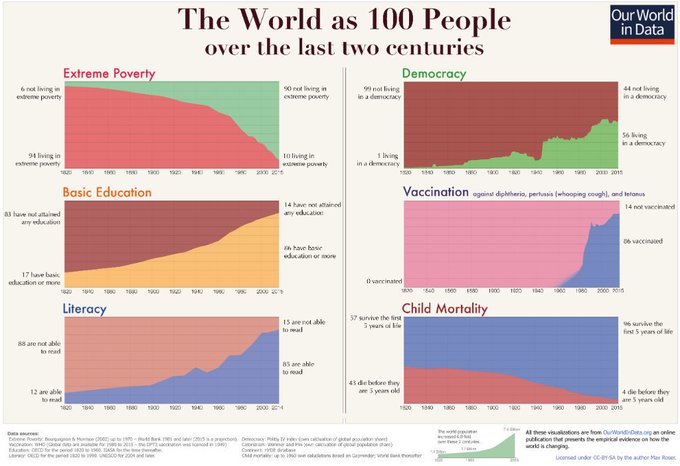 This is one of my favorite infographics. A lot of people underestimate just how much life has improved over the last two centuries: https://b-gat.es/2S23hlG
In reality, Hickel wrote, people simply needed relatively little money to survive and thrive in 1820.
The global population as a whole hasn't gained more wealth in the last 200 years, he wrote—instead, "the world went from a situation where most of humanity had no need of money at all to one where today most of humanity struggles to survive on extremely small amounts of money," with much of the world having endured "a process of dispossession that bulldozed people into the capitalist labor system."
…click on the above link to read the rest of the article…