Turkey has brushed off a Sunday threat by President Trump to "devastate" them economically if they attack the Kurdish militia (YPG) in northern Syria, which US forces have fought alongside against the Islamic State (IS).
Turkey regards the YPG as terrorists.
---
Starting the long overdue pullout from Syria while hitting the little remaining ISIS territorial caliphate hard, and from many directions. Will attack again from existing nearby base if it reforms. Will devastate Turkey economically if they hit Kurds. Create 20 mile safe zone….
---
"You cannot get anywhere by threatening Turkey economically," said Turkish Foreign Minister Mevlüt Çavuşoğlu.
Trump announced in December that the US would withdraw all troops from Syria as the Islamic State had been "defeated," a move which shocked allies and resulted in the resignation of Defense Secretary Jim Mattis. Concerns remain that Kurds from the Syrian Democratic Forces (SDF), which are are under YPG leadership, would fall under attack by Turkey once the US withdraws.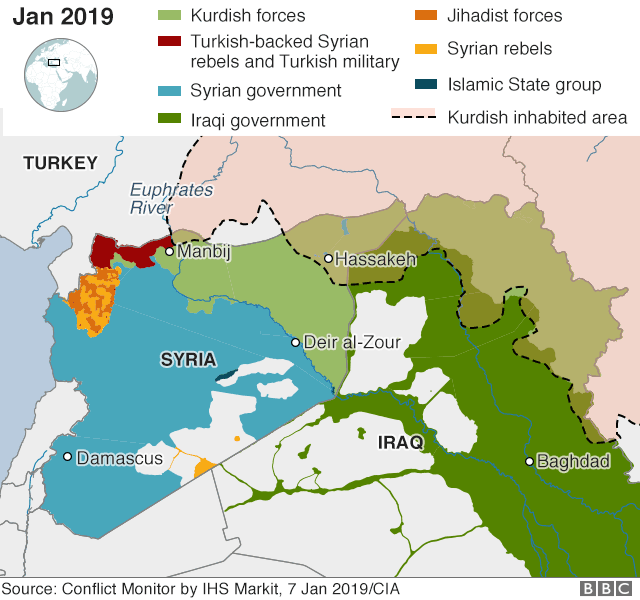 The warning to Turkey came as Ankara has mustered military forces, including tank regiments, along the Syrian border and deep 
in Afrin after last year's 'Operation Olive Branc
h' plunged pro-Turkish forces across the border inside Syrian Kurdish enclaves.
Last week Turkey's leaders, including the defense minister, described preparations underway for another major Turkish assault on US-backed Kurdish positions east of the Euphrates, following the exit of American advisers based on Trump's previously announced pullout. That said, Trump said on Sunday that he would thwart any Turkish invasion plans with a "20 mile safe zone,"
Presumably this "safe zone" will be towards protecting American forces while precise exit logistics take shape, and will occur simultaneously to the US pounding remnant ISIS positions; however the details remain uncertain.
…click on the above link to read the rest of the article…