Mortgage rates are climbing faster than the 10-year Treasury yield.
The average interest rate for 30-year fixed-rate mortgages with conforming loan balances ($453,100 or less) and a 20% down-payment rose to 5.17% for the latest reporting week, according to the Mortgage Bankers Association(MBA) today. This is the highest average rate since September 2009 (chart via Investing.com):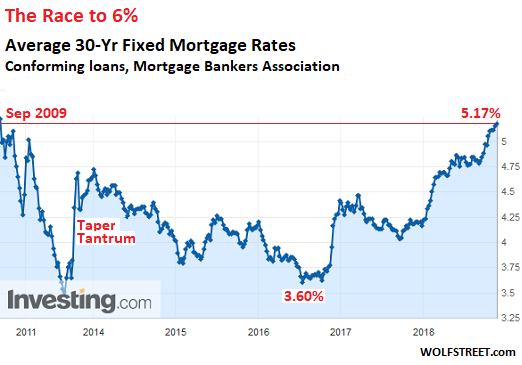 Many people with smaller down payments and/or lower credit ratings are already paying quite a bit more. Top-tier borrowers pay less.
Thus, mortgage rates have moved a little closer to the next line in the sand, 6%, which is still historically low. At that point, the interest rate would be back where it had been in December 2008, when the Fed was unleashing its program of interest rate repression even for long-dated maturities via QE that later included the purchase of mortgaged-backed securities (MBS), which helped push down mortgage rates further.
Now the Fed is shedding Treasury securities and mortgage-backed securities, and we're starting to see the impact on mortgage rates: The difference (spread) between the 10-year yield and the interest rate of the average 30-year fixed-rate mortgage has widened sharply.
Since the beginning of the year:
The 30-year mortgage interest rate has risen 95 basis points, or nearly 1 percentage point (from 4.22% to 5.17%).
The 10-year Treasury yield has risen 71 basis points (from 2.46% to 3.17%)
The spread between the two has widened from 176 basis points on at the beginning of January to 200 basis points now.
In other words, mortgage rates are climbing faster than the 10-year Treasury yield, now that the Fed has begun the shed mortgage-backed securities. This is expected. It's part of the QE unwind – it's part of the Fed exiting the mortgage market and pulling its support out from under it.
But 6% is still low:
…click on the above link to read the rest of the article…